Discrimination on the grounds of sexual orientation and gender identity has no place in our society, but for many people in Europe, it is a daily reality.
The European Commission is standing against discrimination, prejudice and hate, and for diversity.
By raising awareness on the rights of LGBTI people, we're showing the world that no matter whom we love or who we are, everyone should enjoy the same rights.
Why raising awareness?
The 2015 Eurobarometer on discrimination shows that almost 60% of EU citizens see discrimination based on sexual orientation and gender identity as widespread.
Lesbian, Gay, Bisexual, Transgender, Intersex (LGBTI) people continue to suffer from widespread discrimination, hate speech and hate crimes in the European Union. Although 71% of EU citizens agree that LGBTI people should have the same rights as heterosexual people, according to a study by the European Fundamental Rights Agency (2013), 47% of LGBTI people report to be discriminated or harassed in the year preceding the survey.
Half of all respondents avoid certain places – public buildings, squares or public transportation – for fear of being harassed, threatened or attacked on account of their sexual orientation or gender identity.
71% of citizens support equal rights for LGBT people
About the work of the Commission to advance LGBTI equality
To tackle discrimination against LGBTI people in the EU the Commission has put forward the 'List of actions to advance LGBTI equality'. The actions outlined in this list cover all the main policy areas; effectively aiming to mainstream LGBTI equality. The Council adopted the first ever conclusions on LGBTI equality in June 2016 requiring the Commission to annually report on the implemen¬tation of the list of actions. The first annual report on the implementation of the List of Actions was published in February 2017, which provides an overview of the ac¬tions undertaken to advance LGBTI equality in 2016 and the ongoing efforts and commitment of the Commission in this area.
The campaign - #shareyourdream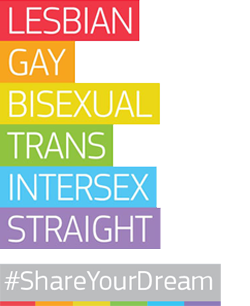 One of the main fields of actions of the European Commission is raising awareness about the issues LGBTI people face, and their rights. For the first time in 2016, and as part of the 'We All Share the Same Dreams' campaign, the Commission and the Commissioner for Justice, Consumers and Gender Equality, Věra Jourová took part in the EuroPride in Amsterdam, an event that raises awareness and supports the emancipation of the LGBTI community. The campaign focuses on the things that unite us rather than divide us; underlining that hopes and dreams are universal to us all.
The campaign features LGBTI and straight people sharing the same dreams. The campaign focuses on the things that unite us rather than divide us and underlines that hopes and dreams are universal to us all.
A social media toolkit

(2 MB) and factsheet

(513 kB) on the campaign are also available to download.
Other actions include the dissemination of promotional material through social media channels. On the International Day against Homophobia and Transphobia 2017, by disseminating promotional materials – like the video and visuals published on this webpage, the Commission is stating its commitment to stand against discrimination and to promote LGBTI equality and inclusion. #EU4LGBTI #IDAHOT2017
Related links
Related documents