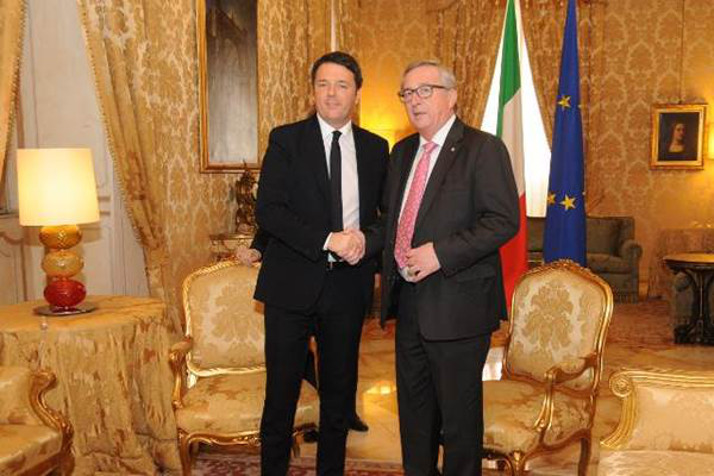 President Juncker's first official state visit to Italy coincides with the second anniversary of Prime Minister Renzi's government.
President Juncker had a friendly meeting with Prime Minister Matteo Renzi, in which they agreed on important aspects of Europe's most urgent priorities. The meeting covered a number of issues, from the economy, jobs and growth to progress on the European response to the refugee crisis and, more generally, the current state of European affairs.
After the meeting, President Juncker underlined Italy's historic contribution to European integration, and spoke of a "large convergence of views" between the Italian government and the European Commission, including on the further deepening of the Economic and Monetary Union. In the refugee crisis, Italy's efforts were "exemplary and could serve as a role model for other Member States," President Juncker added.
On Europe's economic policy, the President said: "This Commission does not condone blind austerity". The Commission last year granted Italy flexibility under the EU's Stability and Growth Pact, helping the country to reboot investment and pursue its ambitious programme of reforms. In January 2015 it adopted a Communication on how it intends to apply this flexibility under the Stability and Growth Pact. "There is an absolute need to rediscover the path of sustainable growth," insisted President Juncker.
"From the start I have pleaded for a virtuous triangle of investment, structural reforms and responsible fiscal policy," he said of the Commission's broader economic strategy. Italy is the second-highest beneficiary of the Investment Plan for Europe, whose first wave of projects in Italy will trigger new investment worth 4.8 billion euros and create more than 3,200 new jobs. President Juncker and Prime Minister Renzi both hoped the Investment Plan would continue its promising start and pleaded for its prolongation beyond 2017.
During his visit, President Juncker also met with the President of the Republic, Mr Sergio Mattarella, the President of the Senate, Mr Pietro Grasso, the President of the Chamber of Deputies, Ms Laura Boldrini and the former President of the Republic, Mr Giorgio Napolitano.
Related Links