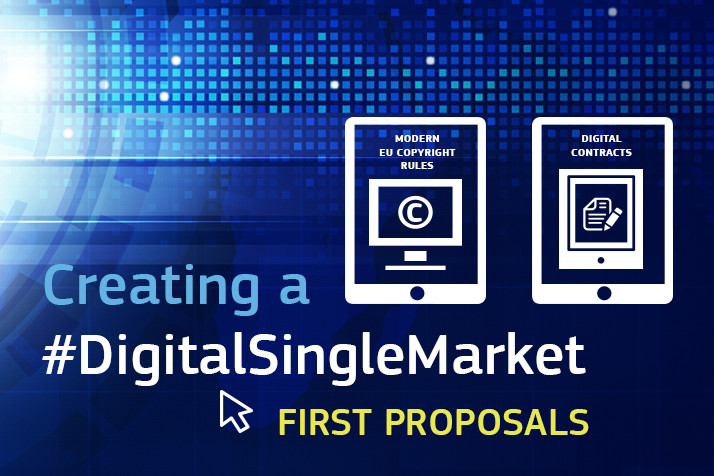 The Commission plans to give new rights to Europeans when they travel and buy online and help businesses grow across borders. It also sets out how to make EU copyright rules fit for the digital age.
Delivering on its Digital Single Market Strategy, the Commission today presents a set of proposals to ensure better access for consumers and businesses to online content, goods and services across Europe. Andrus Ansip, Vice-President for the Digital Single Market, said: "(…) When people download a movie or a song, it must play. If this is not the case, they should be able to end the contract and get their money back. People who legally buy content must be able to carry it with them anywhere they go in Europe. This is a real change, similar to what we did to end roaming charges.(…)"
The new rules on digital contracts aim to better protect consumers who buy digital content or goods online across the EU and help businesses expand their online sales. Věra Jourová, Commissioner for Justice, Consumers and Gender Equality said:"(…)The internet has lifted technological barriers to a Digital Single Market; with the digital contracts proposals we want to lift legal barriers. Consumers and businesses must buy and sell online easily and confidently anywhere in the EU". Removing barriers due to contract law differences should bring an overall benefit to the European economy in the order of €18 billion and EU GDP is expected to increase by €4 billion from its current level.
The other proposal, a Regulation on the cross-border portability of online content services, will ensure that Europeans who have purchased films, series, sports broadcasts, games or e-books online while at home can access them when they travel across the EU. Günther H. Oettinger, Commissioner for the Digital Economy and Society explained that the Commission wants to ensure by 2017 that Europeans can enjoy their favourite content also when they travel in the EU and that the Commission aims at a copyright environment that is stimulating, fair, rewards investment in creativity and makes it easier for Europeans to access and use content legally.
The action plan to modernise EU copyright rules aims to make EU copyright rules fit for the digital age. This "political preview" will be translated into legislative proposals and policy initiatives in the next six months, taking into account all inputs from several public consultations. Overall, the Commission wants to make sure that Europeans can access a wide legal offer of content, while ensuring that authors and other rights holders are better protected and fairly remunerated. The key sectors of education, culture, research and innovation will also benefit from a more modern and European framework.
Context: Today's new rules are the first legislative proposals to be presented as part of the Digital Single Market strategy. Overall, 16 initiatives will be presented by the end of next year. Today's proposals will complement recent major achievements to build a Digital Single Market: the agreements to end roaming charges by June 2017, to enshrine net neutrality into EU law and to strengthen cybersecurity in the EU. The Commission is also working hard to reach a political deal by the end of this year on strengthening EU data protection rules.
The College of Commissioners also agreed on the registration of two new European Citizens' Initiatives ("Mum, Dad & Kids" and the "European Asylum Initiative") as it considered that both initiatives fall within the conditions set out in the ECI Regulation. If a European Citizens' Initiative, within one year after registration, reaches one million statements of support from citizens from at least 7 Member States, it will be referred to the College for a discussion on substance. In this case, the Commission can then decide either to follow the request or not follow the request and in both instances would be required to explain its reasoning. Today's decisions bring the total number of European Citizens' Initiatives submitted to the Commission to 57, of which 37 have met the legal criteria for registration.
Related Links