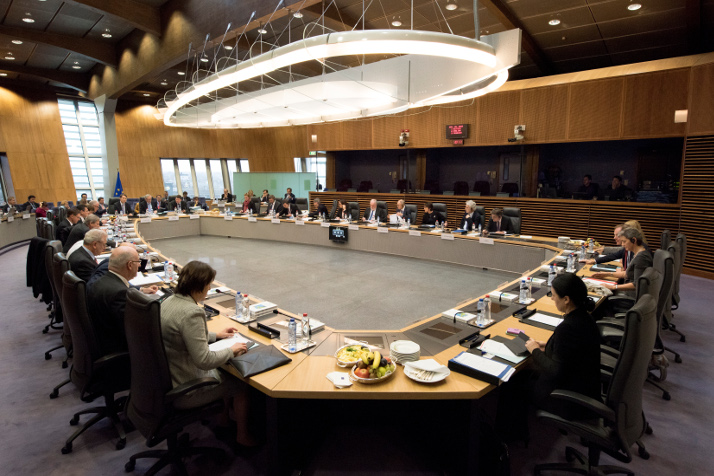 Today the European Commission proposed measures on the control of firearms, presented its first State of the Energy Union Report and its review of the European Neighbourhood Policy.
Stronger control of firearms
Today the European Commission adopted a package of measures to make it more difficult to acquire firearms in the European Union, easier to track legally held firearms, strengthen cooperation between Member States and to ensure that deactivated firearms are rendered irreversibly inoperable.
The package of measures on firearms adopted by the College of Commissioners today includes a revision of the Firearms Directive to tighten controls on the acquisition and possession of firearms; a Regulation on common minimum standards for deactivation of firearms. The Commission also announced that it will prepare an action plan against the illegal trafficking of weapons and explosives.
Originally presented in the European Security Agenda adopted in April 2015, the proposals have been significantly accelerated in light of recent events.
President Juncker said: "The recent terrorist attacks on Europe's people and values were coordinated across borders, showing that we must work together to resist these threats. Today's proposal, prepared jointly by Commissioners Bieńkowska and Avramopoulos, will help us tackle the threat of weapons falling into the hands of terrorists". Internal Market and Industry Commissioner Bieńkowska and Commissioner for Migration, Home Affairs and Citizenship Avramopoulos added: "The adoption of the firearms package today is proof of the Commission's determination to address the new reality we are confronted with".
Energy Union on track to deliver
Today the Commission published the first State of the Energy Union Report, which shows that extensive progress has been made since the adoption of the Energy Union Framework Strategy in February.
Vice-President Maroš Šefčovič stressed that important work has started and first results have been achieved, such as better interconnectivity and improved energy efficiency. He also said much remains to be done, and 2016 will be an important year for achieving results. "Nine months down the road, we can say with confidence that we are on track to deliver the Energy Union. My messages for 2016 are clear. First, the EU should continue to lead in the transition to a low-carbon economy. Second, that transition should be socially fair and consumer-centred. And third, the geopolitical challenges that we faced this year will not go away. 2016 will also be the year in which we will lay the foundations of a robust governance system bringing predictability and transparency, which is what investors need."
Stronger partnership for a stronger neighbourhood
Today, High Representative Federica Mogherini and Commissioner Johannes Hahn presented the EU's renewed approach to its southern and eastern neighbours.
During this mandate, stabilisation will be the main political priority of the European Neighbourhood Policy(ENP), which will also reflect the different wishes of individual countries concerning the nature and scope of its partnership with the EU. The EU will continue to uphold universal values on democracy, human rights, fundamental freedoms and rule of law.
The new European Neighbourhood Policy supports inclusive economic and social development and sees creating jobs for young people as a key measure of economic stabilisation. There will be a new focus on security, work will be stepped up in conflict prevention, counter-terrorism and anti-radicalisation policies. Safe and legal mobility on the one hand and tackling irregular migration, human trafficking and smuggling on the other are further priorities. Finally, greater attention will be paid to working with partners on energy security and climate action.
The review of the European Neighbourhood Policy (ENP) follows broad consultation with Member States, partner countries, international organisations, social partners, civil society and academia.
Related Links