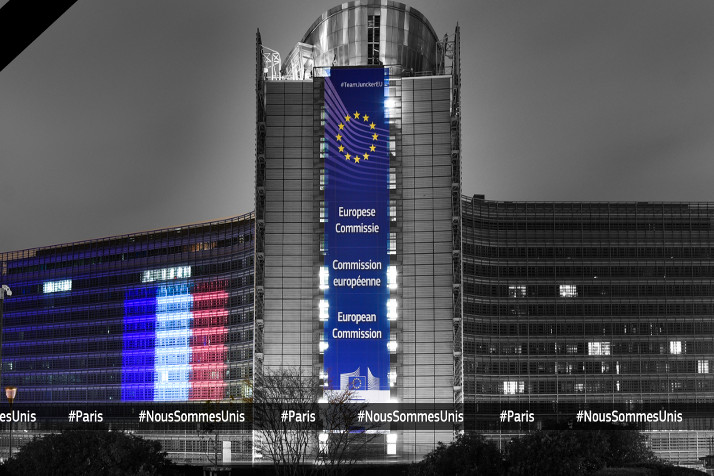 A minute of silence was observed at midday in honour of the victims of the attacks in Paris and to signal the solidarity of the whole of the EU with the people of France.
Following the tragic attacks in Paris on Friday, the President of the European Commission, Jean-Claude Juncker, responded immediately by sending a letter to the French President, François Hollande, expressing his solidarity with France and stating 'I am appalled and outraged by this heinous terrorist attack on France'.
On Sunday (15 November) the 28 Heads of State or Government and the Presidents of the European Institutions published a joint declaration emphasising that 'everything that can be done at European level to make France safe will be done'. At a press conference held on Sunday at the G20 Summit in Antalya (Turkey), President Juncker warned against confusing the terrorist attacks with the refugee crisis, stating that 'it is imperative to see that those who organised the attacks and perpetrated them are precisely the ones the refugees are trying to flee, and not the other way round'.
On Sunday the Commissioner for Migration and Home Affairs, Dimitris Avramopoulos, travelled to Paris where he met the French Minister for the Interior, Bernard Cazeneuve, and Luxembourg's Deputy Prime Minister and Minister for Internal Security, Etienne Schneider, representing the Presidency of the Council of the European Union.
In view of the extraordinary Justice and Home Affairs Council to be held in Brussels this Friday, they emphasised that it is essential that operational decisions are taken quickly and implemented within a tight time frame. The Commission is already making every effort to prepare the Council. Since Saturday evening the Berlaymont building, the Commission's headquarters, has been lit up in the colours of the French flag, and the flags of the Member States are being flown at half-mast as a sign of solidarity with the people and Government of France.
Related Links