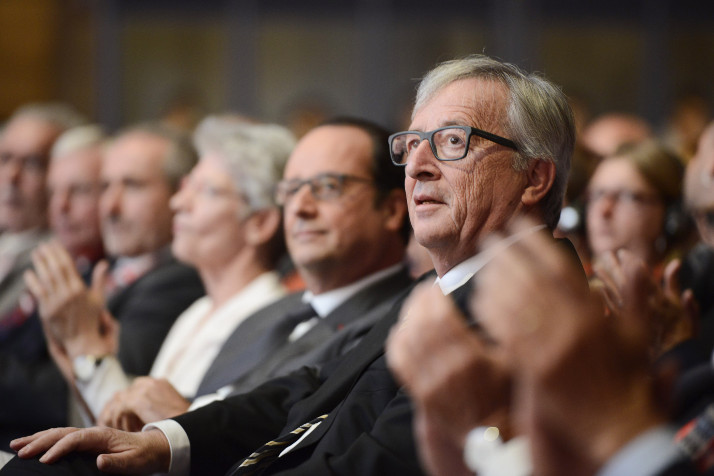 President Juncker attended the Conference of the European Trade Union Confederation. He defended his vision of a more social Europe characterised by greater solidarity, not least towards refugees; it was, in his words, a core requirement. He also met Manuel Valls, the French Prime Minister.
President Juncker took part in the opening session of the 13th Conference of the European Trade Union Confederation (ETUC) alongside François Hollande, President of the French Republic, Martin Schulz, President of the European Parliament, Anne Hidalgo, Mayor of Paris, and Jean-Claude Mailly, General Secretary of Force Ouvrière.
President Juncker used the occasion to talk about Social Europe, reform and solidarity.
Reform, he said, was the translation into action of a certain idea of humanity which we should all have and share.
But, he stressed, not everything needed to be reformed. For example, there was no question of interfering with the principle of the free movement of workers.
In some other areas, however, there was a need to move forward. In particular, the European social dimension had to be completed. The Commission would be presenting its proposals for a basic package of social rights in Spring 2016. These were social targets which could not be lowered, and which would pave the way for greater convergence of the labour market in Europe. In particular, President Juncker defended indefinite contracts, which should be the norm for contracts of employment, since, as he put it, "of course companies need predictability, but so do workers".
On the question of solidarity, President Juncker mentioned three areas in which there was a particular need for solidarity:
solidarity towards refugees, whom he welcomed to Europe, with a warning against those who in the face of the refugee crisis were appealing to unworthy sentiments;
solidarity, too, as regards the right to work and the principle which should be applied throughout Europe, namely equal pay for equal work at the same place of work;
finally, solidarity on taxation, based on the principle that profits should be taxed where they are made.
President Juncker also paid a warm tribute to Bernadette Ségol, who was leaving her post as General Secretary of the ETUC, and welcomed her successor, Luca Visentini, repeating his promise to work in close harmony with the ETUC.
In the course of the day, President Juncker also met the French Prime Minister, Manuel Valls, with whom he discussed the present challenges. He emphasised that dialogue between Paris and the Commission was productive, and he thanked France for its support for the Commission's plans for managing the refugee crisis. He also welcomed France's participation in the investment plan for Europe, recalling the need to establish a 'virtuous circle', consisting of fiscal consolidation, structural adjustment and investment.
Related Links