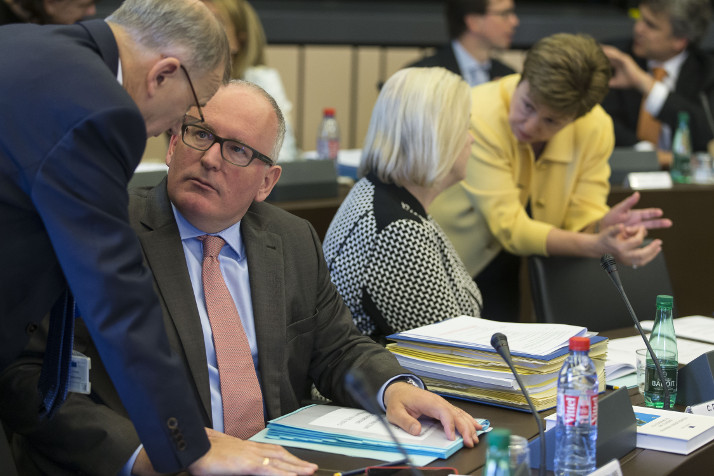 The Commission adopts the Better Regulation Agenda and launches infringement case on the application of the German Minimum Wage law to the transport sector.
Better regulation means doing different things, and also doing them better. It does not mean to deregulate but rather to regulate better; achieving policy goals in the most efficient way, through EU rules when needed but also at national level and/or through non-regulatory means whenever that is sufficient. The Commission wants to update its law-making practices to ensure that they meet with modern requirements and citizens' expectations for maximum transparency and wide consultation.
More Transparency and Consultation
The Commission will open up its policy making process to further public scrutiny and input, with a web portal where initiatives can be tracked and new public consultations when we are evaluating existing policies or assessing possible new proposals.
Keeping existing laws under review
The Regulatory Fitness and Performance Programme (REFIT), which assesses the existing stock of EU legislation to make it more effective and efficient without compromising policy objectives, will be strengthened. It will become more targeted, looking at the most serious sources of inefficiency and unnecessary burden, and will also quantify the costs and benefits of actions wherever possible. The Commission is already working actively to reduce burdens in areas such as VAT, public procurement, business statistics and chemicals; comprehensive evaluations in other fields are also under way.
Better impact assessments and quality control
The Commission is strengthening its approach to impact assessment and evaluations to improve the evidence base which underpins all legislative proposals, without prejudice to political decisions.
A New Interinstitutional Agreement for a shared commitment by EU institutions
Better regulation can only work if it is a shared commitment of the Commission, Council and European Parliament. The Commission today submits a proposal for a new IIA on Better Law-Making to the Parliament and Council, aiming for agreement before the end of 2015.
In addition to the adoption of the Better Regulation Agenda, the Commission launched an infringement procedure against Germany concerning the application of the Minimum Wage Act to the transport sector. Whilst fully supporting the introduction of a minimum wage in Germany, the Commission considers that the application of the Minimum Wage Act to all transport operations which touch German territory restricts the freedom to provide services and the free movement of goods in a disproportionate manner.
Related Links