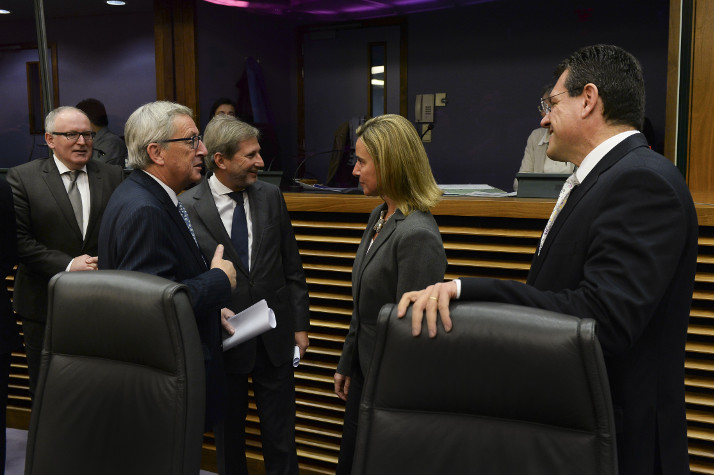 The new European Commission under the lead of its President Jean-Claude Juncker held its first meeting in Brussels.
After the approval vote of the European Parliament on 22 October 2014, the Commission took up office on 1 November.
The Commission consists of political heavy-weights including 9 former Prime Ministers or Deputy Prime Ministers, 19 former Ministers, 7 returning Commissioners and 8 former Members of the European Parliament, all with solid economic and finance background, and for some of them with extensive foreign relations experience.
The new, strong and experienced team gathered around the large oval table on the 13th floor of the Berlaymont building to get down to work.
This Commission has committed to a new start for Europe. President Juncker insisted that it would "not only look different, but would also work differently". For example, the collective work of the College of Commissioners is organised in project teams which will ensure a dynamic interaction of all Members of the College, breaking down silos and moving away from static structures.
The first task of the new College will be to rebuild bridges in Europe after the financial and economic crisis, and to restore European citizens' confidence. "Europe needs a broad-based agenda for reform to strengthen its competitiveness and stimulate investment for job creation", President Juncker told the European Parliament.
This should be achieved through a clear focus on ten political priorities where the European Union can make a real difference.
In this spirit, the College had a general debate today on the challenges lying ahead on the economic front, after a presentation by Vice-President Katainen and Commissioner Moscovici. External relations have been discussed with a special focus on Ebola, and a note was presented by Commissioner Stylianides detailing his priorities as newly elected EU Ebola Coordinator. The last point on the College agenda was a general discussion on the new way of working together in project teams.
Related Links