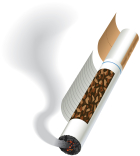 Tobacco Additives
1. Factual links

1.1 EU regulations or reports
Report from the Commission to the European Parliament on application of the Tobacco Products Directive.


http://ec.europa.eu/health/ph_determinants/life_style/Tobacco/Documents/tobacco_products_en.pdf
1.2 Q&As & FAQs
Details of general EU policy and regulation of tobaccco products and public health.
http://ec.europa.eu/health/tobacco/policy/index_en.htm 

1.3 Other websites
European Public Health Alliance pages on smoking and health
http://www.epha.org/r/38 

World Health Organisation Study Group on Tobacco Product Regtulation
http://www.who.int/tobacco/global_interaction/tobreg/en/index.html 

Worldwide news about tobacco, smoking, health risks and regulation
http://www.tobaccoreviews.net 


http://www.smokersnews.net 

UK anti-smoking pressure group Action on Smoking and Health
http://www.ash.org.uk/information 

US policy on flavoured tobacco and marketing to children
http://www.fda.gov/TobaccoProducts/ProtectingKidsfromTobacco/FlavoredTobacco/default.htm 

Large libraries of documents released by the tobacco industry as a result of legal actions in the USA are posted and catalogued on two websites –
http://tobaccodocuments.org 


http://legacy.library.ucsf.edu 

2. Other Views

Independent academic viewpoint on tobacco, risks and regulation, Dr Michael Siegel, Boston University.
http://tobaccoanalysis.blogspot.com 

Tobacco industry product, market and regulatory news
http://www.tobaccojournal.com 

Facts about tobacco ingredients from major manufacturer
http://www.bat-ingredients.com 

The GreenFacts Three-Level Structure used to communicate this SCENIHR Opinion is copyrighted by Cogeneris SPRL.