ABC - DEF - GHI - JKL - MNO - PQRS - TUV - WXYZ
Di-isononyl phthalate (DINP)
Definition:
DINP is a phthalate that is mainly used as additives in plastics to make them more flexible. Its structure and applications are very similar to those of DIDP. It has been widely used in everyday products, ranging from floorings to shoe soles.
In the 1990s, around 95% of DINP was used in PVC as a plasticiser. More than half of the remaining 5% was used in the production of polymers other than PVC (e.g. rubbers). The remaining DINP was used in non-polymer applications including inks, adhesives and sealants, paints and lacquers.
At present, DINP is banned in toys and childcare articles that children can put into their mouths (see European Directive 2005/84/EC).
Source: based on the GreenFacts study on Phthalates
More:
Di-isononyl phthalate (DINP)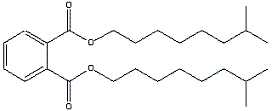 Molecular formula C
26
H
42
O
4
Source: CERHR
Translation(s):
Deutsch: Diisononylphthalat (DINP)
Español: Diisononilftalato (DINP)
Français : Di-isononyl-phtalate (DINP)