ABC - DEF - GHI - JKL - MNO - PQRS - TUV - WXYZ
Di(2-ethylhexyl) phthalate (DEHP)
Similar term(s): di-octyl phthalate (DOP).
Definition:
DEHP is a phthalate, a substance to make plastics more flexible. In the 1990s it was the most commonly used plasticizer, added to many PVC building materials, for example PVC flooring.
Other examples of applications include: perfumes, and flexible PVC products such as shower curtains, garden hoses, diapers, food containers, plastic film for food packaging, bloodbags, catheters, gloves, and other medical equipments such as tubes for fluids.
At present, DEHP is banned in all toys and childcare articles (see European Directive 2005/84/EC). The use of this substance is also banned in cosmetics as it is considered to be carcinogenic, mutagenic or toxic to reproduction (CMR-substance). (See European Cosmetics Directive)
Source: GreenFacts
More:
Di(2-ethylhexyl) phthalate (DEHP)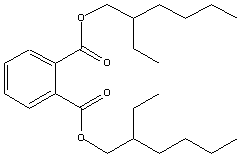 Molecular formula C
24
H
38
O
4
Source: GreenFacts
Translation(s):
Deutsch: Diethylhexylphthalat (DEHP)
Español: Di(2-etilhexil)ftalato (DEHP)
Français : Di(2-ethylhexyl) phtalate (DEHP)