ABC - DEF - GHI - JKL - MNO - PQRS - TUV - WXYZ
Bone
Definition:
The dense, living tissue that makes up the skeleton of humans and vertebrate animals.
Mature bones are made up of three types of tissue: compact tissue (the hard outer portion of most bones); cancellous tissue (spongy tissue inside the bones that contains bone marrow, which makes blood cells); and subchondral tissue (smooth bone tissue of the joints).
Cancellous tissue, also known as cancellous bone, spongy bone or trabecular bone, is characterized by its spongy, porous, honeycomb-like structure and is typically found at the ends of long bones. Compact tissue is also known as hard bone, compact bone or compact cortical bone.
Source: GreenFacts
More:
Graphic representation of a bone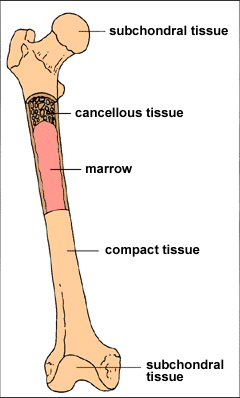 Source: University of Maryland Medecine