ABC - DEF - GHI - JKL - MNO - PQRS - TUV - WXYZ
Pneumonia
Definition:
Inflammation of lung alveoli, the tiny air sacs deep within the lungs where carbon dioxide and oxygen are exchanged.
Pneumonia can cause symptoms such as fever, chills, muscle stiffness, chest pain, coughing up of phlegm, shortness of breath, rapid heart rate and difficulty breathing.
The disease can be acute or chronic and is usually caused by bacteria or viruses.
Source: GreenFacts
More: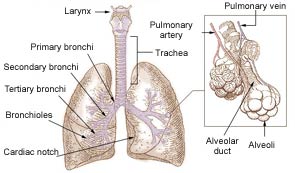 Trachea
Pulmonary artery
Pulmonary vein
Alveolar duct
Alveoli
Cardiac notch
Bronchioles
Tertiary bronchi
Secondary bronchi
Primary bronchi
Larynx
Source: Rastrojo 

(GNU Free Documentation license)
Translation(s):
Deutsch: Lungenentzündung
Español: Neumonía
Français : Pneumonie