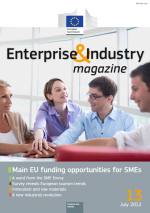 The 13th edition of the Enterprise & Industry magazine looks at the main EU funding opportunities available to SMEs and also at how the Enterprise Europe Network facilitates access to these opportunities. An exclusive interview with SME Envoy Daniel Calleja Crespo further highlights the European Commission's commitment to this cause.
Innovation is critical for companies to stay ahead in the global economy, and in this issue we investigate how Europe is faring against its competition. A big step in this direction is a new European Innovation Partnership, which aims to position the continent on the cutting edge with regard to raw materials.
With resources becoming ever scarcer, a radical reshaping of European industry is required. We discover how the European Commission is paving the way for a new industrial revolution to encourage sustainable growth and create jobs.