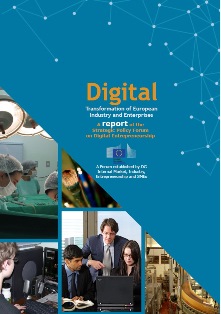 The event was hosted by the Commission in collaboration with DIGITALEUROPE. It commenced with a welcome speech from Antti Peltomaki, Deputy Director General of the Directorate-General for Internal Market, Industry, Entrepreneurship and SMEs. Then John Higgins, President of the Strategic Policy Forum on Digital Entrepreneurship, presented the report to the public.
The Strategic Policy Forum on Digital Entrepreneurship is a think tank set up by the Commission. It brings together leaders from business, academia, international organisations and politics. The report showcases new business opportunities that have resulted from unprecedented business models and that are being powered by advanced digital technologies. It also identifies the key challenges for Europe and proposes thirteen recommendations for political and business leaders to help Europe promote jobs and growth.
The biggest digital opportunity for Europe is in the transformation of existing industry and enterprises. New business models challenge traditional ways of doing business and it's estimated that three quarters of the value of the digital economy will come from traditional businesses. Europe needs to fully exploit these opportunities to become more competitive and a better place to invest and do business.
Digitalisation has enormous growth potential. According to recent studies, digitally proactive companies can perform ten times better than their peers. But so far, Europe has not met its digital potential. While 47% of EU citizens are already shopping online, only 14% of small and medium-sized enterprises use the internet to sell products and services, and less than 2% of European enterprises are currently taking full advantage of the new wave of advanced digital technologies such as mobile communications, social media, the cloud, big data analytics, and the Internet of Things.
None of these figures will improve on their own and the basis for progress in the digital economy is a functioning Single Market where people enjoy full rights and where there is no discrimination. Beyond the Digital Single Market package, the Commission is looking at various actions to unleash the power of digitalisation in Europe as the EU needs a solid strategy to support the digital transition.
The report comes at an opportune moment with the Commission working on the scope and proposals linked to the Digital Single Market, the Internal Market, and industrial policy.