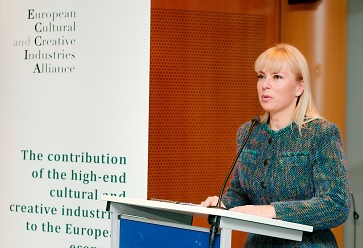 200,000 new direct and indirect jobs were created and turnover grew by €120 billion to €547 billion. This is one of the results of an update

(540 kB) of a 2012 study which was presented on 09 December 2014 at a meeting of the European Cultural and Creative Industries Alliance (ECCIA) in Brussels. The high end industry comprises fashion, jewellery and watches, perfumes and cosmetics, leather goods, accessories, furniture, gastronomy, leisure, cars, wines and spirits. Participants at the meeting agreed that this promising sector deserved further promotion and that new industrial policies putting emphasis in areas where Europe has a strong competitive advantage were needed.
At the meeting the European Commissioner for Internal Market, Industry, Entrepreneurship and SMEs, Elżbieta Bieńkowska, delivered the key note speech. Antonio Tajani, First Vice-President of the European Parliament and the MEPs Silvia Costa and Cecilia Wikström also participated in the meeting.
Background
The European high-end products, known all over the world, provide a unique symbolic value and customer experience. This characteristic of the high-end industries is linked to the cultural and artistic dimensions found in their products, which are therefore ambassadors of the European values. The high-end industries also provide for an important contribution to EU economy. According to the Frontier Economics report, presented by Michael Ward, Managing Director of Harrods and President of ECCIA:
EU is global leader in high-end goods with 70% world market share.
Output 2013: €547 billion which represents 4% of EU GDP: 28% growth from 2010-2013.
Direct plus indirect employment: 1.7 million people in the EU.
Over 60% of the production is exported, value €308 billion which represents 17% of all EU exports of manufactured goods.
As the European high-end industries rely to a considerable extent on exports, a level playing field and access to emerging market economies are crucial for their growth. Barriers to trade also have an impact on the output of these industries and therefore regulatory convergence between the markets is important.
Moreover, the creativity, design and quality distinguish the high-end products. As a consequence, many of these products are subject to infringements of intellectual property rights. Fashion and high-end products account for the largest share of all counterfeit goods: in terms of value, they comprised over 50% of the products detained by European customs in 2013. This number increases every year which undermines Europe's economic growth and employment. In 2013 an Action Plan put forward 11 new actions for the long-term competitiveness of the fashion and high-end industries, including actions to support the availability of skilled people, combating counterfeiting and strengthening IP protection, including in the digital environment, stimulating innovation and creativity (with concrete projects launched under the COSME programme), facilitating trade and internationalisation and exploring synergies with tourism.
The next steps
An in-depth study on the possibility to develop a specific EU industrial strategy/action plan for the creative industries sector will be launched in 2015.