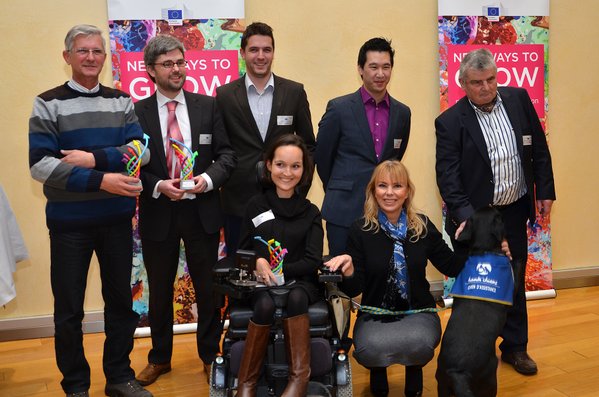 Following the cancellation of the awards ceremony last November, a celebration was organised on 21 January 2016 for the winners of the European Social Innovation Competition 2015.
Elżbieta Bieńkowska, European Commissioner for Internal Market, Industry, Entrepreneurship and SMEs, congratulated the winners and thanked them for their effort to build a more sustainable and inclusive growth in Europe.
On the occasion, winners were awarded their 3D-printed trophy, illustrating perfectly the theme of the competition: 'New Ways to Grow'. They have already received their prizes of €50,000 each.
The three 2015 winners are:
Apiform makes beekeeping possible for people in wheelchairs, senior citizens, and people with back pain or arthritis. By developing a beehive accessible from behind and from a lower level, Apiform allows more people to take part in the opportunities offered by beekeeping. Based in Bosnia, they aim to replicate the model across countries to foster entrepreneurship and help restore the bee population in Europe.
The Freebird Club is a peer-to-peer social travel and homestay platform specifically designed for the over 50s. Established in Ireland, the idea applies 'collaborative economy' principles to address practical issues such as loneliness and financial sustainability for older people. The Freebird Club offers a new world of social travelling for older adults, with a membership-based model.
Wheeliz addresses accessibility in the transport industry through a car-sharing platform. Public transport in many cities is not accessible for wheelchair users, and the use of specialised taxi services is not affordable. Wheeliz will pool the estimated 100,000 adapted cars owned in France, to create a shared fleet of automobiles available for rent by wheelchair users, with ambitions to expand across Europe.
Commissioner Bieńkowska also took the opportunity to invite all innovators and entrepreneurs in Europe to prepare for the 2016 competition. It will be themed around social innovation for refugees and migrants, and will be officially launched on 25 February 2016 in Amsterdam. The three best solutions developed for the contest will receive a €50,000 prize each.
Registration for the launch event of the European Social Innovation Competition 2016