Key policy documents
Further information on the resource efficient Europe initiative can be found in the following key policy documents:
Assessment of natural resources data
Eurostat has produced several publications that describe European natural resources statistics. The easiest to understand are called 'Statistics Explained'. These web-based documents follow the 'Wikipedia' style, and include summary tables, charts, and plenty of hyperlinks to take you to the information you need.
Links to natural resource related 'Statistics Explained' articles can be found here:
Detailed data and analysis is provided in other Eurostat publications.
Europe in figures – Eurostat yearbook
Europe in figures – Eurostat yearbook provides users of official statistics with an overview of the wealth of information that is available on Eurostat's website and within its online databases. It belongs to a set of general compendium publications and, of these, it provides the most extensive set of analyses and detailed data. The Eurostat yearbook has been conceived as an online publication updated on a rolling basis that provides a balanced set of indicators, with a broad cross-section of information, covering all of the main areas in which official European statistics are available. The complete publication is available in English, German and French.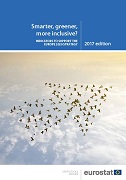 Smarter, greener, more inclusive ? Indicators to support the Europe 2020 strategy — 2017 edition
The 2017 edition of 'Smarter, greener, more inclusive? — Indicators to support the Europe 2020 strategy' continues the series of Eurostat flagship publications supporting the Europe 2020 strategy by monitoring progress towards the targets and goals defined under the three mutually reinforcing priorities of smart, sustainable and inclusive growth. The analysis is based on the Europe 2020 headline indicators chosen to monitor progress towards the strategy's targets. Other indicators focusing on specific subgroups of society or on related contextual issues are also used to deepen the analysis and present a broader picture. The data used mainly come from official statistics produced by the European Statistical System and disseminated by Eurostat. It covers the period from 2002 or 2008 up to the most recent year for which data are available (2015 or 2016).
LEAFLETS AND OTHER BROCHURES
Environmental statistics and accounts
Environmental statistics and accounts in Europe presents a selection of environmental statistics and accounts available at Eurostat and its partner institutions, such as the Directorate-General for the Environment of the European Commission and the European Environment Agency with its Topic Centres. It is an attempt to provide information on various aspects of the environment to the general public.