Women and automobiles
06/11/2009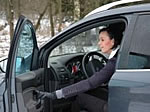 For journalist Beata Szozda, starting a new business in Poznań, Poland, seemed like an uphill struggle. While she received lots of encouragement from friends and family, potential investors were not interested in funding an online business proposed by someone with no experience in business especially an online publication for women about cars.
"I was always interested in automobiles," Beata recalls. "From primary school onwards, most of my friends were boys and they always talked about cars, so I naturally joined in. I remember once on a family vacation my father started telling me about all the different models of cars. When I came back home, I could recount all the names of the car manufacturers and models to my friends."
She became interested in journalism after she achieved second place in the 2003 Miss Poland beauty contest. A reporter called her about a year after the contest ended to find out if she had received the prize and the support the organiser had promised. Beata's negative response sparked off a series of national stories about problems with the contest. Soon afterward she received job offers from a number of media outlets.
By 2007, Beata was taking a bachelor of arts programme in international relations in Poznań. She was also the host of a weekly 15-minute programme reviewing automobiles for a local television station and also presented a shopping show for another. She had just switched to television after working for three years for Gazeta Poznań, where she was responsible for producing the newspaper's motoring section and for a weekly advice column for women about cars.
Turning a passion into a business
It was while doing the TV programme on cars that Beata came up with the idea of creating her own motoring publication specifically designed for women. Beata investigated whether she could turn her idea into a viable business. She found a survey by a research company which indicated that nearly half of all cars sold in Poland are bought by women, either personally or by influencing the decision of their husbands.
"I had been a motoring journalist for a few years and I could not find any information about cars that specifically addressed the needs of women," she says. "I did not want to focus on the automotive industry only. The idea was for a portal about women and for women. I wanted to develop a publication that gives a lot of practical advice for women on the everyday uses of a car."
Her family and colleagues at the television station encouraged her to pursue her dream, but she ran into a roadblock often faced by young entrepreneurs – finding investors who would be willing to risk their money on a venture. Then a colleague from the television station mentioned that Poznań's science and technology park and the Adam Mickiewicz University Foundation were holding a contest targeting young entrepreneurs with the best ideas for a new business. The contest was due to end the next day.
"I put in the application five minutes before the contest closed," Beata recalls. "It was March 16, my birthday."
Beata was one of the applicants chosen by the foundation to take part in the contest's business training programme, which was co-funded by the European Union through the European Social Fund. From March to June 2007, Beata received training on how to prepare a business plan, information about accounting and Poland's legal and tax requirements, along with advice on seeking investment funding.
At the end of the programme, Beata had completed her business plan which was then assessed by a commission of experts. They decided her business plan was viable enough to receive start-up funding from the EU. She used the money to launch Autopolki.pl, Poland's first automotive information portal for women, in August 2008. She now works full time running the business and expanding the portal. The hours are long, but Beata is living her dream.
""My job is my passion," she says. "I do not get much sleep because there is so much work to do. Most days I only get to sleep at 3 am."
Expanding the business
The site is supported through advertising. In addition to reviews of cars and driving tips, Autopolki.pl also offers women readers the opportunity to take cars out for road tests through an agreement Beata has with local car dealers. The women then submit their reviews of the cars to Autopolki.pl. Beata does a fair amount of the reviews herself, and often travels a lot outside of Poland to test drive cars and pick up information at automotive exhibitions.
The site has also expanded to offer day-long driver training courses for women at a disused airfield just outside of Poznań. A driver-training company conducts the courses, offering participants who want to upgrade their skills a discount through Autopolki.pl. About 20 women participated in a recent training session, where they learned how to control their cars on wet and icy roads.
Beata vision does not stop there. For her, the portal is a launch pad for a bigger business that generates enough revenues so she can start hiring journalists and other staff. She wants to make a map of repair shops in Poland that women can trust to do a good job and charge a fair price. She wants to create an online shop that sells accessories for cars. Beata has also received offers from potential investors to expand the site outside of Poland.
"While I was working for someone else I could not achieve my full potential as I wanted to," she says. "I cherish this independence as an entrepreneur. I value this freedom to create and run a business.
To a departing visitor, Beata says: "Szerokiej drogi!" The phrase translates as "Have a wide road", a traditional way in Poland of wishing someone a safe drive home.