Knowledge is empowerment
23/10/2009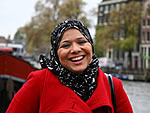 As a young girl, Khadija Majdoubi dreamed of nothing more than owning her own hairdresser's salon.
She realised that dream for a while in her native Morocco, but when she moved to the Netherlands, tragedy struck and her world was turned upside-down. Khadija lost her husband when she was pregnant with twins. The shock was tremendous and her babies were born prematurely. She spent the next few years as a full-time mother, and looking after her friends' children.
With a family to care for and still adjusting to life in a new country, Khadija had to rely on state aid. With only a basic knowledge of the Dutch language, she had a hard time finding even a simple job, much less starting a new business.
The road to recovery
"It isn't easy raising children on your own," says Khadija. "It seemed like everyday was so full, I had no time for anything else. To start with, finding a job was a big problem."
At her local social services office, Khadija found out about a free training course for unemployed women, co-funded by the European Union through the European Social Fund. "The course helped me realise my dream, starting with improving my language skills," she explains. "That was so important, and it helped me to feel better about myself."
VONK is a work and education centre for women living in the Zeeburg district of Amsterdam. The programme helps women irrespective of their level of education, experience or origin. It provides information and recommendations and helps them with finding a job, training and obtaining social benefits. More generally, it provides support for integration and well-being. VONK also cooperates with other Dutch and local agencies, with women's organisations and social service institutions.
Feeling good about yourself
One of the most difficult obstacles faced by women after long periods of unemployment is a lack of confidence. The training course therefore included sessions specifically aimed at building self-esteem and assertiveness.
"I learned to communicate better," says Khadija, "and I understood better how things work when you are opening a business. The first thing I had to do was find a job. I had become dependant on other people. I needed to to get back on my feet."
VONK staff actually accompanied Khadija on her job searches, and with support and encouragement from friends and family, she finally got a job at a local hairdresser's. "The people I saw about a job were reluctant at first," she explains. "I am not from here and I don't look like everyone else, and I was not able to express myself the way I would have wanted. The people at VONK helped me to get my foot in the door."
"I never thought I would be able to do this"
Once back at work, Khadija managed to put some money aside. Indeed, she managed to put enough money aside to realise her childhood dream. In April 2009 she opened her own hairdresser's boutique not far from her home in Amsterdam. "I was a hairdresser before," she explains, "when I lived in Morocco. It's what I love doing and I'm good at it. But I never thought I would be able to do this here, to open my own place." 
Khadija says the ESF-funded VONK training course and individual assistance helped her to find herself, and it's changed her and her children's lives for the better. "I'm really glad I did the course," she says. "It's the reason I'm here today."