New IT skills for a better future
25/09/2009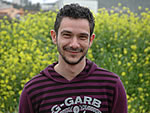 "Like many people today, I use computers both for business and pleasure. Knowing how to get the most out of these technologies means a better life and a more promising future."
So says Christos Giannakopoulos, a young man with a bright outlook, thanks in part to the European Social Fund.
Christos lost his parents at an early age and was moved, with his older brother, from Athens to a small orphanage on the outskirts of Chalkida. The institution, where he still lives, is housed on the grounds of an ancient cloister.
Perched on a rocky coastline, a tiny church is surrounded by a huddle of small buildings, including classrooms and a playground, as a well as a larger building housing dormitories, a large kitchen and common rooms for about ten orphans. 
Overcoming harsh odds
"The setting was picturesque," Christos muses, eyeing the placid blue of the Gulf of Evia, "but growing up without a mother and father was still tough." Even so, the two boys managed to find their ways. When the time came, Christos went off to do his national service.
Greece currently has universal compulsory military service for males, under which all men above 18 years of age serve for 12 months. During Christos' time in the army, his commanding officer suggested that he enrol in a free IT training course. Christos jumped at the chance. The course, aimed at a broad group, including disadvantaged individuals and members of the armed forces, was supported by the EU through the European Social Fund.
The aim of the training programme was to teach basic IT skills, to improve the 'digital literacy' of students and enhance their job market potential.
The project was run by Greece's ESF Actions Implementation Authority of the General Secretariat for the Management of European Funds - Ministry of Employment and Social Protection, in the framework of the Operational Programme "Information Society 2000-2006" -Ministry of Economy and Finance.
Management Organisation Unit (MOU) is a non-profit institution within the broader public sector that assists public authorities in the effective management of EU-funded programmes. The MOU reports to the Greek Minister of Economy and Finance.
The IT lessons, says Christos, helped him hone his previously rather modest computer skills, giving him a better understanding of the basics of word processing and spreadsheet applications and how to use the internet.  
Putting new skills to work
Christos works with a computer on a daily basis, both at home and on the job. "There's so much to access on the internet," he says. "I use it to communicate with my friends, and to get information on all kinds of subjects. And I can find out about new products and services, but I also use a computer at work."
Christos is employed full-time at a nearby home furnishings shop. He spends part of his time helping customers on the showroom floor, but he also checks orders and updates stock and inventory databases on the office PC, and he makes deliveries when he feels like getting out for some fresh air.
"Having a free computer course has made a big difference in my life," he affirms. "I wouldn't be where I am today without it." Christos says other students who were on the course with him have also done bigger and better things as a result of the skills they learned.
Eyeing the future
Christos sees his current job as an important stepping stone, where he's learned a lot about management and how to run a successful business. He hopes one day to start a business of his own, perhaps in partnership with his brother. "We like to get together and throw ideas around," he says. "We're looking at maybe opening some kind of café or an internet bar. It's going to happen one of these days, when the time is right."
Whatever lays in Christos' future, his computer skills are sure to be invaluable.
"I come from an ancient country where we are proud of our history," he says. "But we don't have to live in the past; we can also look to the future. Information technologies provide important tools in all sectors today," he says. "Participating in the ESF-funded training course was definitely a useful experience for me."