One good boost deserves another
18/09/2009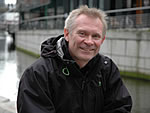 Mogens Lausen has an outgoing and engaging personality, but he wasn't always that way.
Today a talented musician and actor, he had to overcome early timidity at school and in his personal life. 
"I grew up in a small town in the north of Jutland," he explains. "I was a quiet kid and it was difficult for me to express myself, but I always loved music." 
Mogens originally wanted to study music at Aarhus University, but music departments were being scaled back all over the country at that time. "Becoming a professional musician was always going to be a struggle," he says. "The theatre presented other challenges and I thought it might be the thing for me, so I opted to enrol as a drama student." The decision was a bold move indeed for someone with chronic shyness. Either way, the city of Aarhus was to play a major part in his future. 
"This is an exciting and vibrant cultural centre," says Mogens. Aarhus is the second largest city and the principal port of Denmark, and it's seen a series of major public renovation projects in recent years, transforming its once crumbling inner city into a showpiece for local culture and commerce. With its over 300 000 inhabitants, Aarhus claims the unofficial title 'Capital of Jutland'.  
Building on valuable experience
"I did some professional acting here in the city when I finished college," says Mogens, "and even a little directing. My work taught me an enormous amount about self-confidence, but life in the theatre is not easy and my wife and I did go through some difficult times." 
Mogens realised the way forward was to start his own business. He saw in himself the potential to help people with building confidence and perfecting their 'life performances'. He had developed his own 'coaching' techniques over his years in the theatre, using his knowledge as an actor and performer to draw other actors out, find motivation and face difficult personal issues. These same techniques could be employed to help people in general, he realised, but he still needed help in turning his ideas into a viable career. 
I had some pretty clear notions about where I wanted to go," says Mogens, "but I was trying to start a company without any experience. Meanwhile, my wife was looking for support for a theatre group she heads, and this meant our financial situation was not very stable. I knew I needed real help to get my business started, and I needed to act quickly."  
More than rules and regulations
Help arrived for Mogens and his family in the form of a special training course for budding entrepreneurs, co-funded by the European Union through the European Social Fund. The course helped Mogens get his company off the ground. "I received some very valuable information about how to get started. There are lots of administrative rules to follow, hoops to jump through," he says. 
The training course, organised by the Centre for Entrepreneurship at Aarhus University, included concrete advice on navigating commercial rules and regulations, but it also required participants to examine their personal skills, motivations and expectations. "Being familiar with the 'rules of the road' was a real help," says Mogens. "I could not have started my business without it, but I also learned something about my individual strengths and weaknesses, my personality, and my potential as an independent entrepreneur."  
Towards success
Today, Mogens runs his own business in Aarhus. 'Re-Act!' provides coaching and consulting to people who want to move forward in their careers, develop skills, work through business problems and vanquish personal demons. 
Mogens' work takes him to companies and organisations in the city centre and surrounding countryside, and he also does coaching sessions at his home office. "My clients come in all shapes and sizes," says Mogens. "They can be people, individuals who want to make career moves, companies considering strategic restructuring, or organisations involved in tough negotiations with government authorities or other bodies." All of these, he says, represent people with personalities and traits who have to express themselves, and understand and interact with other people. 
"Knowing who you are and why you want what you want can influence how well you do," says Mogens. "This is something I learned during the ESF course. The experience helped me to get a clear picture of where I want to go and how I want to get there. And that's what I teach others; I have now helped hundreds of people to move forward in their lives and careers. I would call that success."