Balancing work and childcare
19/06/2009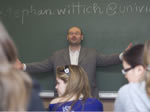 Stephan Wittich balances post-doctoral research work and parental care thanks to childcare project co-funded by the European Social Fund.
Stephan Wittich has been working at the University of Vienna for 12 years. As an assistant professor of international law, he has a time-consuming schedule, with both regular teaching duties and research projects.
When he and his wife Isabel, who also works at the university, had their first daughter, Marie, four years ago, his life got even busier. Isabel took the year off immediately after her birth and then Stephan took the following year off.
"I stopped teaching," he says. "The priority was to look after Marie. But it wasn't really time off, I still had lots of work to do. "
Starting work on his post-doctoral thesis, which deals with procedures in international courts, he had to find a way to combine long hours of research with his new parental responsibilities.
"As an academic, I have the advantage of being flexible in my work. But, on the other hand, it is really important to have a calm place to be able to concentrate with no distractions," he continues.
Finding a solution
Stephan was able to make use of a nursery facility run by the university for its students and staff. "It was only possible for me to get any work done at all because of the crèche," he says.
The 'Children's office' project, which was started in 2002 with funding from the European Union through the European Social Fund, aims to provide affordable and flexible childcare. "A regular crèche was not really an option. We probably could not have afforded it," says Stephan. Professional carers and facilities are available for toddlers and children of up to 12 years old during each weekday. Meanwhile, the parents have access to a quiet study room equipped with computers and reading desks so that they can get on with their work while still being on hand for their children. Stephan says the advantages over a regular crèche include being able to book at short notice and for periods of time as short as a few hours at a time.
With parenthood often a reason for changing, delaying or dropping out of studies or a career in academia, the university decided to help staff and students to reconcile their studies and their family lives and make university more child-friendly. The coordinators estimate that around 11% of the students at universities in Vienna, around 11,500 people, have childcare obligations, and up to 50% of staff.
For Stephan, the benefits were clear. "It really helped, I could only continue with my research because of the nursery. It meant that I managed to work on my thesis and take care of my daughter.
"It also helped to get Marie familiar with other children and adults from a young age," he adds. "She had no problem adapting when she started kindergarten."
Other parents
Daniela Finzi, in the third year of her PhD studies in German literature and cultural studies, is another parent who uses the nursery for her two-year-old twins. " I've been using the nursery since the girls were four months old," she says. "It's perfect for me and I prefer to work here because I can really get stuff done here. At home there are always distractions."
The office provides also other services including a 'flying nanny' service to provide childcare during university events, co-ordinates a pool of babysitters, and offers advice and information for parents. Another service which the office runs, and Stephan is involved in, is a "children's university". It gets staff from the university to teach children about their subjects during two-week summer courses. "It's a teaser for them to learn about university and get them thinking about the areas they would like to study later on," says Stephan.