Enjoying the country life
27/11/2009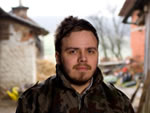 Growing up on a small farm in the rural Prekmurje region in northeast Slovenia, Andrej Lovrencec has deep roots in the countryside.
"I like this region very much, I belong here. I couldn't imagine living in a city," says the 22-year-old. "I would perhaps move within the area, but I don't think I'd move somewhere completely different."
Back home with his mother and father, he grows various crops including wheat, grapes, fruit, potatoes and animals including goats, cows and bulls. Though small-scale, the farm provides food for the family and animals with some excess produce to sell.
Andrej had learning difficulties at school and often had to take time off due to mental health problems. He began having spells of severe headaches, vomiting and impaired vision from a young age and when he was 12 he started to suffer from depression.
"School was difficult. I had problems learning but also with my classmates. It was just little things but it bothered me." In 2002, when Andrej was in the seventh grade he got really sick and he didn't go for a year. At the age of 15 he was registered as disabled and though he eventually finished his basic education in 2004, afterwards he found he had limited job options.
Stuck at home all day, he felt bored and isolated."I was at home, waiting for something to happen. I didn't know what to do, where to go and I didn't have any money."
In 2008, he began to turn his life around by taking a training course. It involved a three-month mentoring programme run by a local organisation, Mosaic, which employs and supports socially vulnerable groups, especially people with disabilities. There are four areas of activities – agriculture, organic food production, eco-tourism and building restoration.
A full-time job
The 'on-the-job training' programme is a nationwide effort that started in 2004 and is co-funded by the European Union through the European Social Fund. It is aimed at people who may have difficulty getting into work including people with disabilities, young people with few qualifications and long-term unemployed.
After the programme, Andrej was offered a full-time position. He works in a small team doing a variety of tasks in agricultural or food production. It is ideal for Andrej, combining a supportive and friendly environment with a working area he is knowledgeable and enthusiastic about. "I like working here because I like farming," he says.
"The work is really interesting, whether it is out on the land, or inside." Being an agricultural based business, employees work whenever needed, depending on the seasons and crops. "Sometimes we work seven days a week," he adds. For Andrej, with his farm upbringing, this type of regime is second nature. " I don't mind the long hours. And it's great because my co-workers are also my friends."
Personal skills
It is evident that he is really enjoying working life, his self-confidence has grown and he has become much more independent. I've met new people and I learn something new everyday," he says. "And I've now got financial independence." The regular income has enabled him to buy his own car, which helps him get around and adds to his improved social life.
His parents have also noticed a big difference. "He's much happier and livelier now. He hangs out with friends – he didn't do that so much before," says his mother.
Mateja Kaljevič, adviser from regional employment service that helps to organise the work placements, has also noticed a big change. "Andrej is 100% different after doing the programme. At the start, he came in with his mother and she would speak for him. He was afraid of everything and had no confidence. Now he is one of the most confident participants we've had."
Assessing the change in his life that getting into the workforce has brought, Andrej says. "I'm really satisfied now. It's the first time that I've got what I've wanted. I don't have any big plans for the future. If everything stays as it is that is just as well. We have a saying – going slow will take you far."