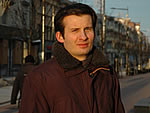 The provincial city of Siauliai in northern Lithuania feels far removed from the heart of Europe, even from the country's own capital of Vilnius, but Nedas Jurgaitis, a language teacher at the local college, is intent on keeping up with the rest of the world.
"There are real positive changes taking place in our region," he says. "We are a long way from the centre of things here, but we have an excellent school system, a great college and a lot of very good students. The future looks bright."
Nedas' real love is comparative linguistics. After taking a Master's degree in the subject, he started teaching at Siauliai College, but with little research experience, his prospects of making a mark in the academic world looked remote.
That changed when he attended a series of special training courses, seminars and workshops, co-funded by the European Union through the European Social Fund. The 'MOKOM' project (Developing scientific research competence) was aimed at training, enhancing qualifications and re-qualifying scientists and other researchers to meet today's market needs.
Nedas heard about the programme from one of the administrators at the college and he and some of his fellow teachers were encouraged to participate.
Tapping in to Europe's strengths
During the MOKOM series, which ran from September 2005 until February 2008, Nedas and his colleagues met some of Europe's finest and most qualified researchers, scientists and university lecturers.
Course topics included 'new IT tools for research', 'team building', and 'communicating research results'. Practical work included developing new research methodologies and preparing state-of-the-art scientific presentations.
Nedas says he gained important insights into his work and the field of comparative linguistics. The experience gave him a fresh sense of confidence and motivation.
"I gained valuable experience by participating in this programme," he says. "It has had a positive impact on the way I teach, and, more fundamentally, on the way I think about education and research." With new self-assurance, Nedas says he is better equipped than ever to compete in the world of high-level academics.
New-found confidence
At just 28, Nedas already serves as Head of Siauliai College's Department of International Relations. He has now decided to push ahead and is planning work on a Ph.D., hoping eventually to become a full professor. And with a brand new baby girl to look after, Nedas and his wife are indeed expecting better things to come.
"I wouldn't say I completely lacked confidence before,' he says. "I was sure of myself and of my future, to an extent, but I didn't have the knowledge and experience I needed to take the next step, to make that future a reality. Something was missing. Now I see the way forward and that includes new doors opening for myself and my family."