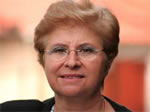 Maria Balbina Soares Melo Rocha takes European Social Fund training courses in forestry management and learns to make her land more profitable and reduce risk of forest fires.
It is September in the countryside near Boelhe, a small village 40km from Porto in the north of Portugal. The sun is shining as Maria Balbina walks through lines of neatly ordered young trees, checking the condition of the trunks here, pruning a branch or two there.
Maria works her forests when not at her full-time job as the head of administration for a group of 18 schools in the area. "I've always been really active," she says. "When I was a child I was involved in music, theatre, dance, church and sports."
These days the 59-year-old has a very full schedule of activities outside her job: involvement in local politics, counselling children, chairing the local development agency, presiding over the board of the regional union for school clerks, and sitting on the board of the region forestry owners association – in addition to being there for her two grown up children and husband.
A treasured actvity
Yet the forests and working on the land remain a treasured activity. Her parents had a farm and kept forests – a tradition she is keen to continue. Indicating the lush woodland around her, she says, "My parents always taught me to appreciate and respect nature. I grew up in this environment, so I totally identify with the countryside."
After school, she studied chemical engineering at university in Porto. However, she returned before finishing her course. " It wasn't what I wanted to do," she says. "I missed it here, so I came back."
In 1973, she got a job as an administrative clerk at a school in the area and began working full time. "I was attracted to working with youngsters, but I didn't see myself as a teacher. The other advantage was that it was close to my village, my parents and friends."
Inheriting parents' land
However, when she inherited her parents' land in 1984 – around 18 hectares of farmland, and the same amount of forests – she found it difficult to manage it with her other activities. The land lay untouched for nine years. "It was in 'standby' mode. I didn't know how to manage it," she says. "I didn't have any time to devote to it and I couldn't find anyone else to manage it.
"I didn't know how to handle the situation. The land grew wild."
However, she was determined to do something. "I was ashamed of the state it was in. I wanted to do something, so I began to contact other forest owners for advice." By 1993, the forest owners in the region had formally created an association, with Maria as one of the founding members.
EU funds - the rescue
"There was much to gain in forming a group," she adds. "And we found out that there were EU funds available to develop and manage forests."
The association helps owners to assess the quality of wood and its value, prepare applications for funding and implement joint projects, as well as providing training in forestry management. It also helps to consolidate owners' lands into larger plots, as they often hold several small areas. "We set up exchanges between members, so that they can have their land together," she says. "Larger plots of land are more profitable, easier to manage and protect from fires."
She took a number of EU-funded training courses between 1996 and 2008, in topics ranging from how to prune and plant trees; to the prevention and control of forest fires; to the marketing of forestry products. The courses gave her the knowledge she needed to take control of her land and begin to get it managed properly again. Through working with the association they have accessed EU funding to start projects in the area.
She has replanted the land with profitable varieties of trees and cleared out dead growth. "Forests are a very long term project," she says. "It's very important to keep the tradition going. I got a connection to the land from my parents and I'm hoping to pass the same interest to my children."