EU growth slower but resilient
Chart 1- Economic growth (click on the image to enlarge)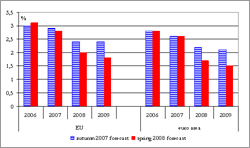 (77 kB) The Commission's spring economic forecast projects economic growth to ease significantly over the forecast horizon, decelerating from 2.8% in the EU in 2007 to 2.0% in 2008 and 1.8% in 2009. In the euro area, economic growth is forecast to slow down from 2.6% in 2007 to 1.7% in 2008 and 1.5% in 2009. The growth forecast for both areas and in both years are now ½ pp. lower than six months ago.
The moderation in growth should be seen in the context of the marked slowdown in global activity, with the United States on the brink of a recession, the turmoil in the financial markets persisting and commodity prices soaring. The EU economy holds up relatively well due to sound fundamentals. It cannot, however, escape the global shocks unaffected.
Inflation up sharply in 2008
Chart 2 - Inflation (click on the image to enlarge)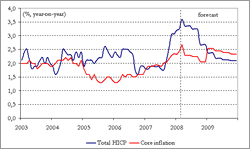 (91 kB)Following rapid increases in food and energy prices, consumer price inflation is expected to rise temporarily from 2.4% in 2007 to 3.6% this year, before coming down to 2.4% in 2009 (2.1%, 3.2% and 2.2%, respectively, in the euro area).
Labour market and public finances cannot escape unscathed
Chart 3 - Labour market developments (click on the image to enlarge)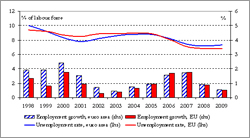 (88 kB)The labour market is also set to soften, but 3 million new jobs are still expected to be created in 2008-2009 on top of the 7½ million already created in 2006-2007. The unemployment rate should bottom out at 6.8% in the EU this year (7.2% in the euro area).
Following several years of fiscal consolidation, the public deficit is projected to deteriorate somewhat over the forecast period. The overall deficit for 2008 is forecast to increase to 1.2% of GDP in the EU and 1.0% in the euro area. For 2009, based on a no-policy-change assumption, the deficit should broadly stabilise. In structural terms, the fiscal consolidation is also projected to come to a halt in 2008.
Downside risks prevail
Chart 4 - Balance of risks to forecast (click on the image to enlarge)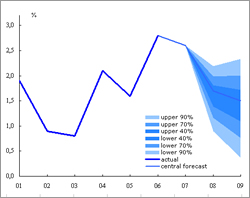 (68 kB)Overall, risks are more balanced than in the autumn 2007 forecast. Nonetheless, the balance of risks for the growth outlook continues to be tilted to the downside, especially for 2009, while the risks for inflation are somewhat on the upside. The major downside risks relate to the still ongoing turmoil in the financial markets which may reinforce the US downturn further.