Although current account deficits or surpluses are not harmful per se, large imbalances of financial and trade flows that last a long time could pose systemic problems, including the risk of abrupt, disruptive adjustments that could damage the stability of the global economy. Reducing excessive global imbalances and maintaining them at sustainable levels has therefore long been at the heart of the global economic policy agenda.
Imbalances before the 2007 Global Financial Crisis
Global imbalances reached a peak in 2006, when the absolute value of all current account balances amounted to 5.6 % of global GDP. Imbalances in the lead up to the crisis were highly concentrated. The United States, the world's biggest debtor country, accounted for the lion's share of the world's current account deficit. On the other hand, much of the world's current account surplus was held by just a handful of countries including China, and several oil-producing countries.
Global Imbalances and the Crisis
In 2009, in the midst of the financial crisis, global imbalances narrowed sharply by almost a third from their pre-crisis peak. This trend was partially reversed in subsequent years before again narrowing to reach 3.6 % of world GDP in 2013.
Today, the United States remains the world's largest debtor country, although its current account deficit has more than halved since 2006. Japan and China have also drastically reduced their current account surpluses, with the former even moving to a deficit position. Whether this global adjustment is structural or merely temporary, however, remains to be seen.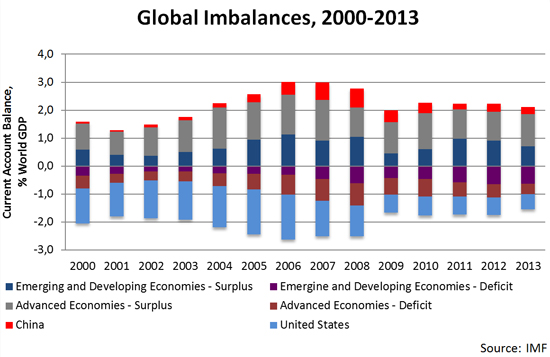 Although overall current account imbalances are now lower than they were before the crisis, they are still high in some cases and appear to be stabilising rather than continuing to fall. Reducing these imbalances further, in an orderly manner, requires a gradual shift in global demand from regions with current account deficits to regions with current account surpluses.
Multilateral cooperation to resolve global imbalances
Global rebalancing is at the core of the work of the G20, of which the European Union is a full member. At the Seoul Summit in 2010, G20 Leaders committed to strengthen multilateral cooperation and to pursue policies conducive to reducing excessive imbalances and maintaining current account imbalances at sustainable levels.
At their summit in November 2014, G20 leaders reaffirmed in the Brisbane Action Plan that sustained global rebalancing remains one of the core priorities of the G20. This time, G20 members put forward a set of comprehensive growth strategies, which also promote global rebalancing. Implementation of commitments over the years has been carried out through an agreed mutual assessment process. With technical support from the IMF, the process also allows G20 members to identify and focus on persistently large imbalances which may require further policy actions.
The European Commission, through its Directorate-General for Economic and Financial Affairs, actively contributes to the work of the G20 by sharing its experiences and best practices in coping with intra-European imbalances. DG ECFIN constantly monitors and analyses the evolution of global rebalancing and its possible impact on the EU economy.
Selected publication
The imbalanced balance and its unravelling: current accounts and bilateral financial flows in the Euro Areas – July 2014


Growth Risks for the EU emanating from Global Imbalances – April 2013