You can find the answer to these questions and all you ever wanted to know about the single currency in our brand new travelling exhibition "The euro, our currency" – a modern, interactive exhibition with touch screens, a quiz and two computer games for kids. You may have the opportunity to see the exhibition in your country, as it will be travelling around Europe.

Modern and interactive

The exhibition is interactive, with touch screens and audiovisual elements as well as traditional exhibition panels, enabling people can skip sections or find in-depth information on different euro-related topics according to their interest. They can also test their knowledge on the euro by doing our quiz. There is a special island for children island with two computer games, where they can show how quickly they are able to recognise banknotes and the different national sides of the coins.
This new exhibition builds on the "Euro Coins Genesis exhibition" that was shown from 2004 and 2006 and travelled to 11 Member States. Then, the objective was to make citizens familiar with the new coins. The new exhibition goes well beyond featuring the new coins and how banknotes and coins are produced. It shows the many opportunities the EMU brings.

The different areas of the exhibition

Click on area names for more information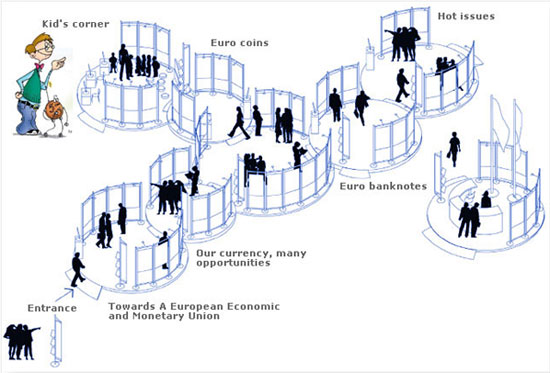 Towards a European Economic and Monetary Union
How it all started: In the same decade, jeans and miniskirts shocked parents and aunties, EMU was first proposed. 30 years later, the single currency was introduced.
Our currency, many opportunities
The benefits of the euro explained: Reduced costs for travellers, transparency of prices, low interest rates and mortgage rates, low inflation, economic stability.
Euro banknotes
Images show how banknotes are produced, from cotton paper to banknotes with security features, such as watermarks or embedded threads.
Hot issues
Did the euro increase prices? Why is there a difference between perception and figures? This and many more on the public finances.
Euro coins
These panels show how the design of the common side of the coins was chosen, the various national sides of the coins and commemorative coins.
Kid's corner
Learning about the euro with computer games: one is a puzzle with images of bank notes, the other one tests, the knowledge of the coins. And the difficult stuff is explained by a cartoon figure: Prof. Euro.