Last update: 19 January 2010

In 2009 the exhibition travelled to Portugal, where it was shown in Lisbon from 5 January until 31 January 2009 and in Braga from 27 February until 25 March 2009.

The exhibition then travelled to Spain where it was shown in Madrid from 15 April until 14 May 2009.

On leaving Madrid the exhibition returned to Germany with a stop in the Munich city library from 25 May until 13 June 2009.

During the summer, the exhibition went to one of the most peripheric regions of the EU, namely the Azores islands. It has been shown in Ponta Delgada (São Miguel), in the Teatro Micaelense from 15 July until 17 August and in Horta (Faial), in the Sociedade Amor da Patria from 25 August until 13 September 2009.

The exhibition is now shown in Lithuania from 29 October until 5 February 2010.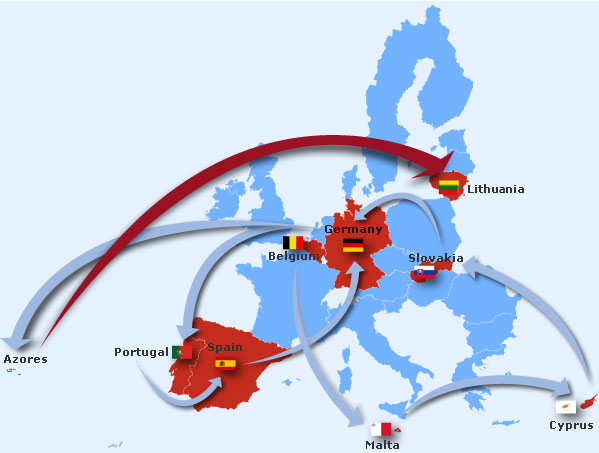 Agenda

Belgium - 4 to 8 June 2007

Malta - 27 June to 8 July 2007

Cyprus - 22 October to 5 November 2007




Slovakia


Bratislava - 24 January to 7 February 2008
Košice - 13 February to 27 February 2008
Hannover - 29 April to 23 May 2008
Münster/Osnabrück airport - 26 June to 28 August 2008
Munich - 25 May to 13 June 200
Lisbon - 05 January to 31 January 2009
Braga - 27 February to 25 March 2009
Ponta Delgada - 15 July to 17 August 2009
Horta - 25 August to 13 September 2009

Madrid - 15 April to 14 May 2009
Kaunas - 29 October 2009 to 5 February 2010

Brochures:

The euro, our currency. Travelling exhibition















Contacts

European Commission
Directorate-General for Economic anf Financial Affairs
External Communication
B-1049 Brussels - Belgium
Fax: +32 2 298.09.98
ecfin-info@ec.europa.eu