MFA is designed for countries geographically, economically and politically close to the EU. These include candidate and potential candidate countries, countries bordering the EU covered by the European Neighbourhood Policy (ENP) and, in certain circumstances, other third countries.
What is the purpose of MFA?
MFA is exceptional in nature and is mobilised on a case-by-case basis to help countries dealing with serious balance-of-payments difficulties. Its objective is to restore a sustainable external financial situation, while encouraging economic adjustments and structural reforms. MFA is intended strictly as a complement to International Monetary Fund (IMF) financing.
As a rule, MFA funds are paid to beneficiary countries' central banks and in general can be used however the government sees fit, be it for reserves, foreign exchange market intervention or as direct budget support. Unlike other forms of financial aid with macroeconomic objectives from the European Commission, such as the Instrument for Pre-accession, the European Neighbourhood and Partnership Instrument, or the European Development Fund, MFA is an emergency assistance measure that is not meant to provide regular financial support for economic and social development.
How much MFA money can a country receive?
The amount of MFA is determined on a case-by-case basis by the EU in consultation with international financial institutions, particularly the IMF. It is based on the residual external financing needs of the country seeking MFA funds and takes into account financial assistance provided by other sources to ensure that the burden is shared fairly between the EU and other donors.
Are there conditions to benefit from MFA?
A pre-condition for granting MFA is the respect of human rights and effective democratic mechanisms, including a multi-party parliamentary system and the rule of law. MFA is also conditional on the existence of a non-precautionary credit arrangement with the IMF and a satisfactory track-record of implementing IMF programme reforms.
MFA funds are released in tranches strictly tied to the fulfilment of conditions aimed at strengthening macro-economic and financial stability. These conditions tend to focus on public finance management and fiscal reform, but may also touch upon other areas such as trade, enterprise restructuring and business environment, or financial sector reform. These conditions are listed in a Memorandum of Understanding signed between the EU and the beneficiary country.
What determines if MFA is made as a loan or a grant?
In most cases, MFA takes the form of medium or long term loans. In exceptional cases, when the beneficiary country shows a particularly low level of economic development and faces an unsustainable external financial situation, MFA may also include a sizeable grant.
How much interest does a MFA loan carry?
The EU does not have its own funds to lend to third parties. Therefore, to provide a MFA loan, the EU borrows the funds in capital markets and lends them on to beneficiary countries, under the same financial terms as those obtained by the EU (same interest rate, same currency, same repayment schedule etc.). In this way, recipient countries benefit from the attractive conditions granted to the EU, which enjoys a AAA rating from Moody's and Fitch, and a AA+ rating from S&P. (see The EU as a borrower)
Who decides when to grant MFA?
Unlike other forms of financial aid to non-EU members, MFA programmes are decided upon under the EU's Ordinary Legislative Procedure, which means they must be proposed by the European Commission and then approved by both the European Parliament and the Council.
In January 2011, the Commission submitted a proposal for a Framework Regulation on Macro-financial Assistance (MFA) to the Parliament and the Council. The main objectives of this proposal were to expedite decision-making, to create an overarching framework for the MFA instrument and to align the MFA instrument with other EU external action instrument. Centrepiece of this proposal was to replace, for the approval of MFA operations, the lengthy and burdensome ordinary legislative procedure (OLP, based on the co-decision process) with implementing powers for the Commission, i.e. conferring on the Commission the capacity to take MFA decisions after a binding consultation of a Member State Committee under the examination procedure for adopting implementing acts. Originally, the Parliament had expressed a preference for using delegated acts instead (Commission decision subject to Parliament or Council objections), but dropped this idea subsequently and aligned itself with the Council which insisted to keep the OLP. When the co-legislators agreed to uphold the OLP, the Commission withdrew its proposal on 8 May 2013 for distortion of its proposal, following long negotiations and after having announced the possibility of a withdrawal.
The Council lodged an action for annulment at the Court of Justice against the Commission withdrawal on 18 July 2013. Following the opinion of Advocate-General (AG) N. Jääskinen of 18 December 2014, the Court of Justice delivered its judgement on 14 April 2015. The Court follows the opinion of the Advocate-General and rejects the Council's action, thus validating the Commission withdrawal. Consequently no Framework Regulation for MFA exists and MFA decisions will continue to be subject to the OLP.
Judgment of the Court (Grand Chamber) of 14 April 2015. Council of the European Union v European Commission.
How have MFA disbursements evolved?
In the early years following its inception in 1990, MFA funding was substantial compared to that provided by international financial institutions as the EU played a key role as a major provider of financial support and bilateral assistance to Central and Eastern European Countries.
MFA volumes peaked in the years immediately following the start of Central and Eastern European Countries' transition to free market economies but began to fall as international financial institutions expanded their contribution and debt relief operations became more important.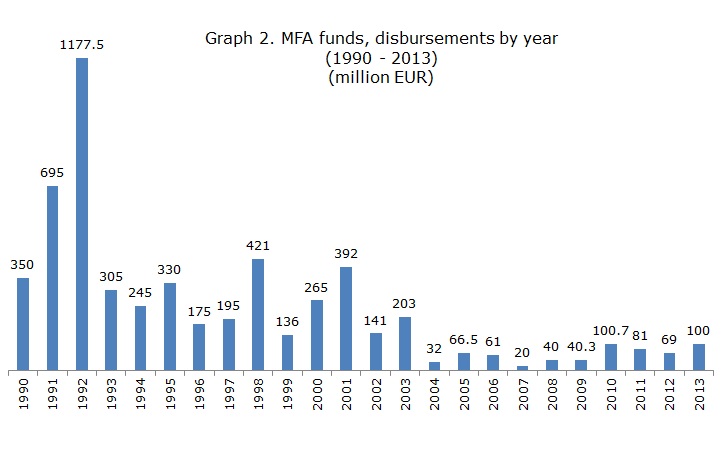 Graph 2 shows the status of all MFA disbursements operations by year from 1990 up to 2013.
Although funds to Central and Eastern European Countries account for 49% of the total amount disbursed between 1990 and 2013 (see Graph 1 above), assistance to these countries was progressively phased out in parallel with their progress in macroeconomic adjustments and reforms.
More recently, MFA has mainly been provided to the Western Balkans (61% of the disbursements from 2000 to 2013) and some new independent states of Eastern Europe, Caucasus and Central Asia countries, formerly parts of the Soviet Union (32% of the disbursements from 2000 to 2013).
While only 13% of total MFA funds disbursed between 1990 and 2013 have so far gone to Mediterranean countries, these countries have benefited from other forms of macroeconomic support from the EU, in particular, the European Neighborhood and Partnership Instrument. As a consequence of the Arab spring, the share of MFA funds going to Mediterranean countries is expected to sharply increase in 2014; already two programmes are under preparation, for Jordan and Tunisia.
Reports