Myths and Facts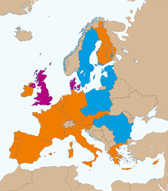 MYTH: Any EU state can decide if it wants to join the euro area or not
FACT: Under the Treaty on European Union, all EU Member States are committed to joining the euro area once the necessary conditions are fulfilled. These conditions are known as the 'convergence criteria' (or 'Maastricht criteria') and include low and stable inflation, exchange-rate stability, sound public finances, and the compatibility of national legislation with EU law.
However, before the launch of the euro area in 1999, Denmark and the United Kingdom negotiated an 'opt-out' clause that allows them to remain outside the euro area for the time being. In 2000, Denmark held a referendum on adopting the euro in which Danish voters rejected the single currency by a narrow margin. The British government has said it will hold a similar referendum prior to any decision to join the euro area.
In contrast, the other Member States, including those which joined the EU in 2004 and 2007 have committed themselves to adopting the single currency as part of their Accession Treaties. The first of them have already joined and others will follow over the next few years, as they fulfil the necessary conditions. On 1 January 2007, Slovenia became the first EU Member State from the 2004 enlargement to adopt the euro. A year later, Cyprus and Malta followed suit, while Slovakia will start using the euro on 1 January 2009.
Euro-area membership is not open to non-EU countries, even though under certain conditions they might use the euro as an official or parallel currency within their economies – and many do. The micro-states of Monaco, San Marino and the Vatican use the euro and issue their own coins under special bilateral agreements with the EU. Andorra, Montenegro and Kosovo have unilaterally decided to use the euro, but do not issue their own coins. Many other currencies both in Europe (e.g. the Bosnia and Herzegovina convertible mark) or further afield (e.g. the West African CFA franc) are pegged to it.
More information
'Adopting the euro' on the DG ECFIN website