Public finances
Public finances are decisive for the economic performance of the euro area. Public finance decisions remain in the hands of national governments, in line with the principle of subsidiarity, but are also subject to coordination at the EU level in the framework of the Stability and Growth Pact.
The EMU's fiscal policy framework has contributed to a marked improvement of fiscal positions in the EU in general and in each specific country.
Achieving the medium-term objectives of getting government accounts 'close to balance or in surplus, as defined in the Pact, contributes to macroeconomic stability and long-term sustainability. The quality of public finances, notably the level and composition of government expenditure and revenue, also helps increase growth potential and the resilience of economies to external shocks.
Development of gross public debt
(Click to view full screen)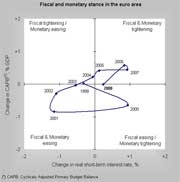 Fiscal and monetary stance in the euro area
(Click to view full screen)