Tax reform: increasing revenue without compromising growth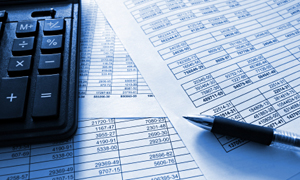 Tax reform is a potential way of supporting budgetary consolidation while enhancing growth. A shift from direct to indirect forms of taxation and the identification of new sources of tax revenue such as financial sector taxation could help boost revenue. Coordination at EU level is important to target mobile tax bases and ensure a level playing field.
In the wake of the financial and economic crisis, public finances have worsened dramatically. And amidst the backdrop of the euro area debt crisis and looming challenges such as demographic ageing, it has become clear that Member States' public finances must be put back on a sustainable path.
Why tax reform?
Given the size of the budgetary consolidation required, many countries will not be able to achieve it through expenditure restraint alone. A contribution from the revenue side will also be required. Tax revenues have been severely impacted by the crisis, however. They plummeted as a result of the automatic stabilisers built into the tax system, a reversal of the revenue windfalls from rising asset prices, and the discretionary measures taken to support domestic demand. Given the high impact of growth on tax revenues and the need to recover from the recession, any changes to the tax system should support, rather than undermine, growth.
Severe impact of crisis on tax revenues
Total tax revenue (incl. social security contributions), as % of GDP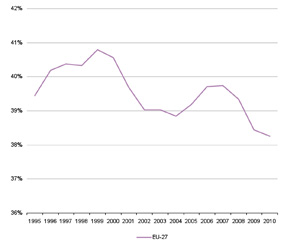 Source: Commission Services
Tax reform is not just a potential support for budgetary consolidation, however. "Tax reform has a value in itself," states Peter Weiss, head of unit for tax policy issues. "The shift of taxes to indirect taxes, in particular property and environmental taxes, could be something which actually enhances growth."
From direct to indirect taxation
Weiss is co-editor of the joint ECFIN-TAXUD study Monitoring tax revenues and tax reforms in EU Member States. The report proposes ways in which tax systems could be reformed in order to increase revenue and enhance growth without simply raising taxes across the board. The authors' main finding is that shifting the tax structure from direct taxes to indirect taxes could yield additional tax revenue while minimising negative effects on growth. Direct taxes on corporate or personal income impact those who produce income and fuel economic growth.
In contrast, indirect taxes are less distortive since they (partly) fall on accumulated assets, as in the case of property and consumption taxes, or can reduce distortions, as in the case of environmental taxes, which aim to internalise externalities.
According to the authors, revenue should be increased by broadening the tax base – by eliminating exemptions, for example – and by finding new sources of tax revenue rather than by raising tax rates. Tax shifts in the Member States have been rather modest so far. But Peter Weiss points out that "recent reforms have broadly been in line with the recommended tax shifts, with tax cuts having largely focused on income taxes and tax increases having mainly taken place in the area of indirect taxation."
Taxing financial rents
One new source of potential revenue could be taxes on the financial sector. The existence of an implicit or explicit safety net – particularly for those institutions deemed "too big to fail" – may put banks in a favourable position in which they enjoy economic rents. Governments could capture these economic rents as an additional source of revenue and in the process correct for the potentially distorted size and behaviour of the financial sector firms. Several possible types of tax are being discussed both within the EU and internationally. In addition to a bank levy, which is currently being discussed at EU level in the context of setting up a resolution fund, the IMF has proposed a Financial Activities Tax (FAT) that would be levied on the sum of profits and remunerations. The advantage of such a tax is that it would proxy VAT, from which financial services are generally exempted and it could be designed to only cover profits above normal market returns and high remunerations, thus falling especially on excessive profits and incomes from high risk activities. A tax on bonuses might also be considered to the extent that the above mentioned rents are captured by managers via bonuses and specific executive compensation schemes. A Financial Transaction Tax (FTT) is also under discussion, with broadly similar objectives of raising revenue while stabilising financial markets by reducing speculative and technical trading.
Taxation and the crisis
While there is general consensus that tax systems were not a root cause of the financial and economic crisis, some features of EU tax systems could have acted as catalysts in the run-up to the crisis. Most corporate tax systems in the EU, for example, favour debt financing over equity financing. Interest payments on corporate debt are deductible from taxable profit, while the return on equity is not. This creates a bias towards higher leverage, and highly leveraged companies are more vulnerable when banks restrict the supply of credit, as they did during the recent recession. This distortion could be eliminated by either an Allowance for Corporate Equity (ACE) or a Comprehensive Business Income Tax (CBIT). The ACE would reduce or eliminate the tax advantage of debt by granting a deduction for return on equity but lead to a narrower tax base. The CBIT would disallow the deduction of interest payments on debt, thereby putting debt and equity on the same footing while broadening the tax base. Several Member States have either introduced an ACE or CBIT in recent years or moved in the direction of one or the other. A combination of these two measures could mitigate the bias from both directions and could be designed as a revenue-neutral mechanism.
Low real interest rates and the rapid expansion of credit were the key drivers in the development of speculative housing bubbles. Nonetheless, taxation could also have played a role. Many countries subsidise mortgage debt by allowing the tax deduction of mortgage interest payments while not taxing imputed rents (the assessed rental value of properties). They also levy relatively low property taxes in order to stimulate house ownership. The favourable tax treatment not only results in an inflated level of house prices but also magnifies shocks to the supply or demand side of the housing market. Property tax systems could be reformed to provide both additional revenue and create more stable housing markets. This could be accomplished through a reduction of mortgage deductions and/or through the taxation of imputed rents.
While taxation may have played a role in reinforcing the crisis, it also contributed to countering it. Built-in automatic stabilisers, in particular personal income taxation, helped to soften the impact of the crisis. These automatic stabilisers have several advantages over discretionary policy measures. Since tax receipts are directly linked to the performance of the economy, they provide more timely support, kick-in automatically at the appropriate time and their size is appropriate to the magnitude of the slowdown or overheating.
Debt is taxed at a lower effective marginal rate than equity, creating a bias toward debt financing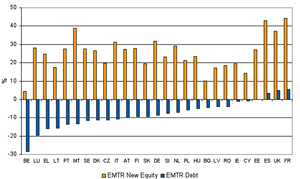 The graph shows the effective marginal tax rates (EMTR) for new investment financed by debt and equity, respectively. The negative values in the graph show that most EU Member States subsidize debt-financed investment whereas the effective marginal tax rate on investment financed by new equity is positive in all Member States.
Source: Commission Services







Coordination at EU level
Carried out individually, some tax reforms might impair the functioning of the Single Market either via tax competition between different jurisdictions or by creating an uneven playing field. Individuals or companies avoid certain taxes, for example, by relocating income or profit to jurisdictions that offer more favourable tax treatment. A degree of coordination at EU level, therefore, is essential. In his report A new strategy for the Single Market, Mario Monti, president of Bocconi University and former Commissioner, has identified corporate tax bases as well as consumption and environmental taxation as areas where reforms would most benefit from coordination either because they target mobile tax bases or affect competitiveness. The report underlines that coordination is worth the effort considering the potential payoff.