Croatian accession
"Nearing the finish line…?"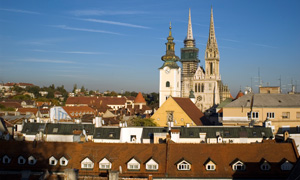 Croatia has weathered the recession relatively well thanks to the inherent strengths of its economy. Nevertheless, the country's large foreign debt is a key vulnerability. The country also needs to complete the re-structuring of its inefficient public sector, reform labour markets and finalise the privatisation of loss-making state industries. Despite the challenges ahead, Croatia is expected to complete negotiations for EU accession in 2010.
Amidst talk of "enlargement fatigue", Croatia is an outstanding success story. The country was already on track for accession in the near term, and its prospects have not been dimmed by the economic crisis. In fact, the country has weathered the crisis well. "If there is one country that does not seem to be affected by enlargement fatigue, it's Croatia", affirms Uwe Stamm, ECFIN Croatia expert.
Inherent strengths of the Croatian economy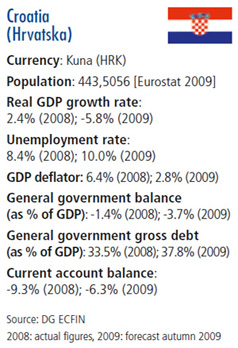 Croatia has not been immune to the global slowdown, however. GDP growth dropped by nearly half to 2.4% in 2008 and is projected to turn sharply negative to -5.8% in 2009 1European Economic Forecast - autumn 2009. European Economy 10/2009. Nonetheless, the country has shown resilience thanks to several inherent strengths. Croatia has benefited from an effective macroeconomic policy mix, and perhaps the cornerstone of this has been the country's prudent monetary policy. The Croatian National Bank has maintained a tightly managed floating exchange rate regime. This de facto fixed exchange rate has anchored inflation expectations. Maintaining a stable exchange rate is important as the economy's financial system is highly "euro-ised" and the EU is Croatia's largest trading partner. The EU's share in Croatian exports and imports is 61% and 64% respectively 2Progress towards meeting the economic criteria for accession: the assessments of the 2009 Progress Reports.
Moreover, tourism represented nearly 20% of GDP in 2008 and together with remittances from abroad accounts for a substantial share of Croatia's foreign exchange earnings 3Progress towards meeting the economic criteria for accession: the assessments of the 2009 Progress Reports.
Another strength of the Croatian economy is its relatively solid banking sector 4Progress towards meeting the economic criteria for accession: the assessments of the 2009 Progress Reports. At 90% of net assets, high foreign ownership has had a stabilising effect on the sector. Furthermore, thanks to prudential and supervisory measures taken before the onset of the crisis, Croatian banks have remained well capitalised. Given that the majority of loans are based on variable interest rates and denominated in or indexed to foreign currencies, however, risks related to unhedged balances remain.
A relatively sound fiscal policy has also helped Croatia weather the recession. The fiscal authorities initially underestimated the impact of the economic slowdown: the budget needed to be revised three times in order to respond to the crisis. Eventually, a number of important fiscal measures were taken with a view to containing the deficit.
Apart from these policy strengths, Croatia has also reaped benefits based on its geographic position and the structure of its economy. The tourist trade has provided stability and helped the country build its substantial foreign currency reserves. The pre-crisis consumption boom was also more limited in Croatia compared with its peer countries, and growth was driven more by investment than consumption. As a result, the economic slowdown has been less pronounced compared with other small open economies such as the Baltic nations. At the same time, however, it will not be easy for Croatia to quickly return to pre-crisis growth rates.
Room for improvement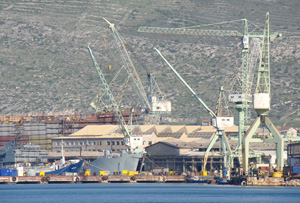 Croatia still faces several major economic challenges. Perhaps the most imminent danger to the economy is the large debt. Gross foreign debt is nearly 100% of GDP, and government debt is about one-third of GDP. Moreover, much of this debt has to be rolled over in the shortterm. Nearly a quarter of the debt will mature by the end of 2010. Still, Croatia is no basket case. Thanks to sizeable foreign currency reserves, the net debt is only about 40% of GDP. A recent $1.5 billion government bond issue was 100% oversubscribed, and the government did not consider IMF assistance necessary.
Longer-term, Croatia must deal with more intractable structural issues. The first important steps have been agreed with the European Commission to restructure the shipbuilding sector and these now need to be implemented vigorously. State aid to loss-making industries such as steel, agriculture and railways is still an issue, and efforts at privatisation are largely unfinished. The share of private-sector activity in total production is estimated at only around 60-70%.
Furthermore, network industries such as energy and telecommunications are still dominated by incumbents. Indeed, while Croatia is deemed to have a functioning market economy for purposes of accession, there is a lack of strong competition across all industries.
The labour market is another problem area. Due to rigidities in hiring and firing, Croatia is plagued by an extremely low participation rate and high unemployment levels, especially amongst the young. One legacy of the Balkan conflict is that a large portion of the population are living on replacement incomes. War veterans enjoy state benefits that can act as a disincentive to work and an incentive to take early retirement. The pensioners' party is even a key part of the governing coalition.
The wartime legacy also skews social compensation schemes. Most benefits are doled out based on criteria – often war-related – other than actual need.
"Social assistance is not well-targeted at the moment," says Carole Garnier, Head of Unit for the economies of the candidate and potential candidate countries. "It should be targeted to the poor."
Social spending is, in general, inefficient, and apart from limited healthcare financing reforms, little progress has been achieved.
On a more positive note, the business environment has improved. Efforts have been made to reduce company registration costs. However, entrepreneurs are still hampered by a patchwork of ad hoc administrative interventions such as different licensing requirements across municipalities and para-fiscal taxes. While small and medium enterprises have continued to benefit from largescale government support, their share in the overall economy has not increased.
How close is "close"?
Croatian accession was held up by a border dispute with Slovenia over access to the international waters of the Adriatic Sea, but in November, Croatian Prime Minister Jadranka Kosor and her Slovene counterpart Borut Pahor signed a border arbitration agreement that is expected to settle the dispute.
Although there is still work to be done and a few outstanding non-economic issues, Olli Rehn, the outgoing EU enlargement commissioner, and other observers now expect Croatia to complete membership negotiations by 2010. As of the most recent intergovernmental conference, Croatia had opened 28 chapters and closed 12, but had yet to reach the halfway point. In the economic sphere, the country is close but still needs to implement reforms to cope with competitive pressure and market forces within the Union. The 2009 Progress Reports and their assessments factually analyse the state of Croatia's compliance with the Copenhagen economic criteria 5In 1993, the Copenhagen European Council identified the economic and political requirements candidate countries will need to fulfil to join the EU. It also concluded that accession could take place as soon as they were capable of fulfilling them..
"From an economic point of view, Croatia is relatively close to accession," says Garnier. Nonetheless, Garnier would like to see Croatia accelerate the pace of restructuring, particularly of its shipbuilding, steel, agriculture and railway sectors.
With a per capita income of 65% of the EU average, Croatia is more affluent than many of the newer EU members. But the nation is not tapping its full potential.
"Staying static entails the risk of going backwards," says Garnier. "By advancing reforms, Croatia can catch up with and converge with the EU countries. They should not miss this opportunity to increase the living standards of the population."