Financial sector repair:
The sine qua non for economic recovery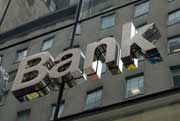 Complete recovery of the real economy depends on restoring the financial system to full health. The various policy measures implemented thus far have been highly effective in averting a complete meltdown of the financial system and in helping to restore normal market functioning. The final step requires restoring the viability of individual financial institutions. Moreover, care must be taken to ensure that a level playing field is maintained and distortions are not created between countries or banks.
Unlike most past contractions, the current downturn – the deepest in 50 years – is the direct result of problems in financial markets. Moreover, if the recession was triggered by the financial crisis then its resolution ultimately depends on fixing the financial sector. Failing to do so runs the risk of creating a negative feedback loop, as the crisis in finance affects the real economy, leading to further problems in finance.
The crisis in financial markets deepened substantially with the bankruptcy of Lehman Brothers in mid-September 2008. The US investment bank had previously been considered 'too big to fail' and had thus benefited from an implicit rescue guarantee. With the end of such implicit guarantees, banks stopped lending to each other, and money markets froze up.
A system-wide liquidity crisis
Rescue vs. Restructuring
Rescue aid is temporary assistance to keep a firm in financial difficulties afloat for the time needed to work out a restructuring and/or a liquidation plan. It must in principle be given in the form of loans or guarantees lasting no more than six months and it should be restricted to the minimum necessary to keep the firm in business during the rescue period.
Restructuring aid, on the other hand, is based on a feasible, coherent and far-reaching plan to restore a firm's long-term viability. It usually involves different elements such as the reorganization and rationalisation of the firm's activities on a more efficient basis, the restructuring of those existing activities that can be made competitive again, diversification towards new and viable activities, financial restructuring (capital injections, debt reduction) and the adoption of measures to limit distortion of competition. Restructuring aid is not aimed at making good past losses without tackling the reasons for those losses. Repeated rescue or restructuring aid for the sole purpose of keeping firms artificially alive is not allowed.
The largely unexpected breakdown of a systemically important global bank prompted a re-evaluation of the risks embedded in the financial system. Central banks took decisive action to calm money markets. The ECB lowered its borrowing costs by 50 basis points to 3.75 percent in October 2008, in a coordinated move with the Bank of England, the Sveriges Riksbank and various non-EU central banks. More reductions followed between October 2008 and the summer of 2009, leading to an overall reduction of the ECB benchmark policy rate by 325 basis points to 1 percent. Besides lowering borrowing costs, central banks have also stepped in as central providers of liquidity, thereby ensuring the availability of short-term bank funding on dysfunctional money markets.
Despite the decisive measures taken by central banks, several European financial institutions fell into difficulties, including Bradford and Bingley, the UK mortgage bank, and Hypo Real Estate of Germany. Moreover, the drying up of liquidity in the interbank market soon began to affect otherwise sound financial institutions. In short, the liquidity crisis had become systemic. Several Member States set up general schemes in order to support the financial sector and ensure financial stability. It became doubtful, however, whether existing rules on rescue and restructuring aid were sufficient to handle a systemic crisis that affected banks not normally considered 'companies in difficulties'. Additional measures would be required.
The European response
Meeting in October 2008, European leaders agreed to implement national rescue packages with a view to safeguarding the stability of the financial sector, restoring the normal functioning of wholesale credit markets and underpinning the supply of credit to the real economy. Such measures mainly took the form of recapitalisation, guarantees on bank debt issuance and relief for impaired assets. The Commission issued guidance on how Member States can take measures to support banks while avoiding excessive distortion of competition, in accordance with EU state aid rules Commission guidance on government measures to support the financial sector was provided in the for of three Communications (see box).
Commission guidance on government measures to support the financial sector
The 'Banking Communication' adopted on 13 October 2008 provided a European framework to allow rescue operations in order to stop or prevent runs on financial institutions.
The 'Recapitalisation Communication' of 5 December 2008 identified a set of standards and safeguards allowing Member States to recapitalise banks in order to ensure adequate levels of lending to the economy.
The 'Impaired Assets Communication' of 25 February 2009 provides the framework for cleaning-up financial institutions' balance sheets by removing toxic assets and underperforming loans.
Member States have provided aid to financial institutions either through general schemes (creating a general authorisation framework) and/or through specific rescue operations targeting individual financial institutions. In some cases, general schemes have been adopted but have not been used in practice, while still being deemed necessary by Member States to ensure rapid implementation if necessary and to reassure the financial markets by their mere existence.
As of end September 2009, 25 schemes have been approved and, since April, 13 national schemes have been prolonged (UK, Sweden, Finland, France, Italy, Latvia, Germany, Austria, Netherlands, Slovenia, Denmark, Hungary and Greece). As of the end of September 2009, 8 Member States have not taken any measures.
In aggregate figures, more than EUR 310 billion has been approved by the Commission for re-capitalisation of banks. Of this amount, almost EUR 200 billion has been injected. This amounts to about 2.7% and 1.7% of EU GDP respectively. More than EUR 2.900 billion has been approved by the Commission to guarantees on bank borrowing, of which about EUR 920 billion is reported to having been allocated. This amounts to about 25% and 8% of EU GDP respectively. In total, about 31% of EU GDP has been committed and 12.5% effectively engaged.
Avoiding distortions
While resolving the financial crisis is its top priority, the Commission has always advanced the view that resolution should not come at the expense of the Internal Market. Rules must be designed that ensure a level playing field between banks located in different Member States as well as between banks which receive public support and those which do not. Failing to do so could trigger harmful subsidy races, in which Member States compete to offer the most attractive rescue or restructuring packages. Furthermore, the crisis itself has raised questions regarding remuneration, accountability and governance. Limiting moral hazard, therefore, is an important concern.
Commission guidelines for restructuring aid
i) Aided banks must be made viable in the long-term without further state support;
ii) Aided banks and their owners must carry a fair burden of the restructuring costs;
iii) Measures must be taken to limit distortions of competition in the Single Market.
In order to ensure a level playing field and set the stage for the eventual withdrawal of support, the Commission has adopted guidelines for assessing restructuring aid given by Member States to banks.
The Commission approach is based on three fundamental principles: i) aided banks must be made viable in the long-term without further state support; ii) aided banks and their owners must carry a fair burden of the restructuring costs; and iii) measures must be taken to limit distortions of competition in the Single Market.
"We need to make banks viable again without state support and to re-invigorate competition in the Single Market," stated Competition Commissioner Neelie Kroes in announcing the guidelines.
Effectiveness of the EU policy response
The various policy measures implemented thus far have been highly effective in averting a complete meltdown of the financial system and in restoring the normal functioning of markets. A full return to pre-crisis levels, however, is unlikely in the short- to medium-term for two reasons. First, risk perceptions prevailing before the crisis were relatively low, and it is unlikely that the situation will revert to precrisis conditions. Second, the economic outlook has deteriorated considerably, and softness in the real economy is certain to impact financial activity.
Despite these caveats, the financial picture has improved. As a result of the banking rescue packages implemented in the third quarter of 2008, the balance sheets of EU banks are now stronger. As noted in DG ECFIN's Quarterly Report on the Euro Area, banks' capital and reserves increased by more than 4% in the period from July 2008 to March 2009. Debt financing conditions have also improved on the back of public debt guarantees. Net issuance of debt is broadly back to pre-crisis levels. Similarly, interbank interest rate spreads have narrowed, falling 70% from their peak in October 2008. This signals a gradual decline in risk aversion and counterparty risk, as well as a tentative recovery in expectations concerning bank profitability. Despite this good news, bank lending to both businesses and households has decelerated, because of weakening demand for credit as well as tighter credit conditions and more costly financing.
Next steps
Although progress has been made, the task of reestablishing the viability of the EU banking sector is not yet completed. Banks are not yet able to properly perform their function as lenders to the real economy. They are still highly leveraged and concerns about the quality of their assets remain. Short- to medium-term prospects for economic growth depend on public support for bank restructuring, and restoring the viability of individual financial institutions. At the same time, proper sequencing and clarity regarding exit strategies is essential. "Rather than being about exact timing, the point of an exit strategy is to clarify the direction of future policy and the conditions for its implementation," says Sean Berrigan, Acting Director for Macrofinancial Stability at DG ECFIN. A clearer policy roadmap would reduce uncertainty and risk, and bring the crisis to an earlier resolution.