The Autumn Economic Forecasts: growth picks up
The single market and, in particular, economic and monetary union, is driving increasing economic integration between the EU Member States. This growing interdependence requires deeper and broader coordination on economic policy-making within the EU. This, in turn, raises the demand for high-quality European-level economic information and analysis. The Economic Forecasts produced by DG ECFIN go a long way towards meeting this need.
Twice a year, in the spring and the autumn, the European Commission produces economic forecasts covering the euro area and the EU as a whole, the individual EU Member States, acceding and candidate countries, and other major economies outside the EU. These are short-term projections of the main macroeconomic variables over the next two years. This economic forecasting is part of DG ECFIN's surveillance activities, which encompass a range of operational and strategic outputs, such as business and consumer surveys, convergence reports, and the yearly EU Economy Review.
Mary McCarthy leads the DG ECFIN unit that coordinates the forecasts. She describes the process: "With more than 60 people contributing to the forecasts internally, the forecast is an intensive effort involving several directorates. We start by establishing the wider global context – for example, the profile for commodity prices, assumptions for interest rates and exchange rates, and projections for important non-EU countries such as the US and Japan. Then, within this global context, the country desk officers in ECFIN produce preliminary forecasts for each country. In making their preliminary forecasts, the country desks make use of their extensive knowledge of the national economy for which they are responsible.
"The preliminary forecasts for the individual Member States are then aggregated to provide predictions for the EU and the euro area of major macroeconomic variables, such as GDP growth, inflation, investment, consumption and employment. Several further steps have to be carried out before we arrive at the 'final' forecast. These include a 'trade-consistency' exercise to check that the aggregate trade flows make sense, and a 'general consistency' exercise to make sure that the whole forecast fits with the standard economic relationships. Finally, we take on board the latest statistical information in the production of the 'final' version, which is presented at a press conference by the Commissioner just over a week later.
The Autumn 2005 Forecasts – brighter times ahead
The latest forecasts of autumn 2005 look forward to 2006 and 2007. The main message is that the pace of economic activity in the EU, building on 1.5% growth in 2005, will accelerate to 2.1% in 2006 and reach 2.4% in 2007. This growth will create 6 million jobs in the EU over the forecast period, helping to reduce unemployment from a peak of 9% in the second quarter of 2004 to 8.1% in 2007. On inflation, a small rise to 2.3% in 2005, driven by high oil prices, will be followed by a gradual decline to 1.9% in 2007.
While the first half of 2005 was disappointing, the euro area and the EU as a whole are now in a position to take advantage of a promising global outlook. Over the summer, DG ECFIN surveys of economic sentiment highlighted growing business confidence, and this is now feeding through to greater domestic demand, which is driving growth. Rising employment is expected to strengthen the still-subdued consumer confidence, thus supporting a gradual recovery of private consumption. However, in particular it is the rising investment by industry, encouraged by improving company profits, that is supporting higher growth. Nevertheless, the earlier slowdown this year has taken its toll on public finances. The general government deficit as a share of GDP is estimated to rise to 2.9% in the euro area in 2005, slightly less in the EU as a whole. Only marginal improvement is expected in 2006 and 2007.
Growth in the EU is supported by a vibrant global economy that exceeded 5% growth in 2004 – the fastest pace since the early seventies – and world trade growth is estimated to stabilise at around 7% p.a. over the forecast period. As many of the factors that favoured this world growth are still in place, such as supportive economic policies, low real interest rates and sustained growth in China, India and the oil-producing countries, the outlook for the global economy remains bright.
However, as with any forecast there are risks associated with the outlook. Higher and more volatile oil prices pose the main downside risk to the forecast's central scenario. The upside is that oil-exporting countries might spend even more of their income in Europe, thus boosting exports beyond the forecast's estimates. Global current account imbalances, due in part to the US deficit, pose another external risk, particularly in the event of a 'disorderly correction' that might hurt EU exporters. Domestically, risks are more balanced. On the downside, higher oil prices could hit growth, but equally, on the upside, growing consumer confidence could be further fuelled as employment rises and uncertainty about future income is reduced through reforms to increase the sustainability of social welfare and pension systems.
Figure 1: Growth contributions in the euro area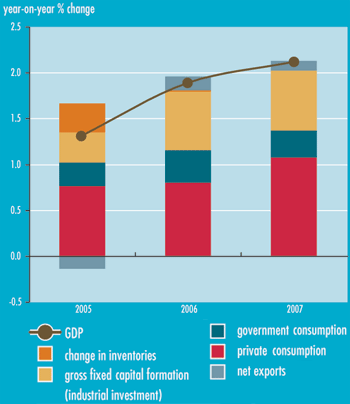 An operational tool
The economic forecasts use a set of macroeconomic variables that are relevant for short-term policy analysis and encourage timely corrective policy action by Member States. These variables include GDP growth, budgetary balances and employment figures. For example, the autumn economic forecasts appear almost simultaneously with the Annual Economy Review, an analytical review of events in European macroeconomies, and are subsequently used when assessing the Stability and Convergence Programmes. In addition, the forecasts are linked to wider policy analysis and decision-making throughout the Commission, in particular in those Directorates-General with forward-looking activities, for example, the Budget DG for revenue forecasting, and the Trade and Enterprise DG for policy-making.
Main features of the Autumn 2005 Forecast – EU-25
(Real annual percentage change unless otherwise stated)

Autumn 2005 forecast¹

Difference vs spring 2005 (a)

    

2002

2003

2004

2005

2006

2007

2005

2006

GDP    

1.2

1.2

2.4

1.5

2.1

2.4

-0.5

-0.2

Consumption

1.6

1.6

2.1

1.6

1.6

2.1

-0.3

-0.4

Total investment

-1.2

0.8

3.0

2.3

3.5

3.6

-1.3

-0.6

Employment

0.4

0.2

0.6

0.9

1.0

1.0

0.2

0.2

Unemployment rate (b)

8.7

9.0

9.0

8.7

8.5

8.1

-0.3

-0.2

Inflation (c)

2.1

1.9

2.1

2.3

2.2

1.9

0.4

0.5

Government balance (% GDP) (d)

-2.4

-3.0

-2.6

-2.7

-2.7

-2.7

-0.1

-0.2

Government debt (% GDP)

61.4

63.0

63.4

64.1

64.2

64.3

0.0

0.0

Current account balance (% GDP)

0.3

0.1

0.0

-0.3

-0.4

-0.3

-0.3

-0.4

¹ The Commission services' Autumn 2005 Forecasts are based on available data up to 7 November, 2005.
(a) A "+" ("-") sign means a higher (lower) positive figure or a lower (higher) negative one compared to spring 2005.
(b) Percentage of the labour force.
(c) Harmonised index of consumer prices, nominal change.
(d) Including proceeds relative to UMTS licences.