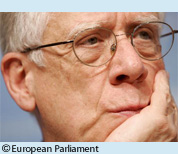 The Commission and the Directorate General for Economic and Financial Affairs have learnt with sadness of the sudden death of Tommaso Padoa-Schioppa, a great European and one of the fathers of the euro, and express their condolences to his family.
Tommaso Padoa-Schioppa was a truly committed European and a founding father of the Economic and Monetary Union (EMU). Tommaso played a key role in the launch of the ERM at the end of the 1970s. In 1988, he was rapporteur for the Delors committee on the single currency.
After contributing decisively to the vision, the design and the launch of the euro, he played a central role in running EMU as a member of the Board of the European Central Bank. More recently, he strongly supported the strengthening of economic governance as a response to the crisis and backed the financial assistance programme for Greece.
The Directorate General for Economic and Financial Affairs (DG ECFIN) is particularly attached to Tommaso Padoa-Schioppa, who was Director General of DGII (forerunner of DG ECFIN) between 1979 and 1983. In his honour and to continue to foster his ideas and inspiration, DG ECFIN will launch an annual "Tommaso Padoa-Schioppa Lecture".
In his reaction to the sad news, Commissioner Rehn said, " Pursuing this work to reinforce our economic and monetary Union with determination is the best tribute that we can offer to his memory."

>> Memo 10/694. 19/12/2010. Message of President Barroso on the death of Tommaso Padoa-Schioppa
>> Message of Commissioner Rehn on the death of Tommaso Padoa-Schioppa