Euro Taxi video interviews - leading economists talk about the crisis
01/07/2010 - Today DG ECFIN launched the first in a planned series of Euro Taxi video clips in which key economic players and passers-by are interviewed on economic subjects including the financial crisis and the Brussels Economic Forum.
Euro taxi is a European TV show and network which gathers individuals' opinions using a very simple tool: a moving studio, a taxi. ECFIN's aim is to use the videos to both inform and entertain and to encourage European citizens to get involved in the debate on financial and economic issues. The short version here includes interviews only with economic stakeholders; a longer version including interviews with the public will become available shortly and will be broadcast on TV in various European countries.
Click the image below to see the Flash video.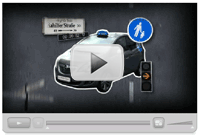 If your browser does not support Flash, please use the Windows Media Video version