17.04.08

During the current school year, and with the support and help of the European Commission, the Cypriot and the Maltese authorities organised a nationwide competition in secondary schools. The competition, based on EMU and the introduction of the euro, was intended to help promote awareness of the euro among young people.
To win their country's competition, the teams were set the task of designing the best calendar (in Cyprus) or information booklet (in Malta) on EMU and the euro. Around 400 pupils participated in each country. At the end of the competition, the winners were invited by the European Commission to travel to Brussels on 17 and 18 April 2008 for a prize ceremony and a visit to the European Institutions.
In his speech Commissioner Almunia praised the creativity shown in the projects. 'Young people and schoolchildren are often difficult to reach with economic messages. It was an excellent idea to engage them in designing communication tools for their fellow pupils', he said.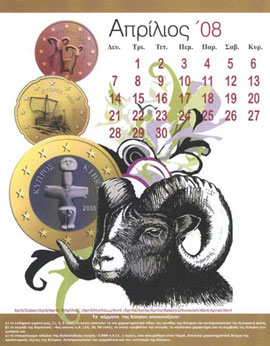 One of the pages of the calendar created by one of the winning teams