Article created on 18 April 2008

Communication

COM(2008) 204 final








Cyprus and Malta adopted the single currency on 1 January 2008. Some 95% of the Cypriots and 90% of the Maltese confirmed that the changeover happened smoothly and efficiently.



A swift changeover
The euro entered swiftly in the countries' daily life. On 4 January, more than 70% of all cash payments were conducted in euro, a higher proportion than the one observed in most countries in 2002 and in Slovenia in 2007. Citizens became very quickly familiar with their new currency. By the beginning of February 2008, some 84% of the Maltese and 73% of the Cypriots said it was easy or rather easy to convert from lira/pound to euro.


Chart: Cash payments in shops in euro and legacy currencies (January 1 - 25, 2008)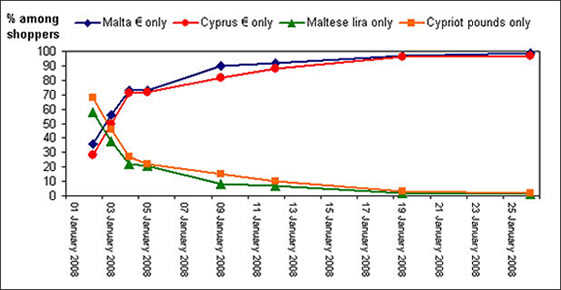 Preventing unjustified price raises

Authorities of both countries were very active in fighting citizens' fears of price abuses during the changeover. Malta was in particular the first country where smoothing of prices upon conversion to the euro was prohibited by law. The rigorous implementation of this ban had apparently a positive impact on citizens' perception of inflation. In the first months after the euro changeover, inflation perceptions were kept in check although measured inflation accelerated, like in the other EU countries.

Flash Eurobarometer surveys
The Directorate-General for Economic and Financial Affairs of the European Commission had launched two surveys concerning the introduction of the euro in Malta and Cyprus. One survey examined the physical entry of the euro into the daily life of citizens and businesses during the dual circulation period (Flash Eurobarometer surveys (FL EB) 220 and 221). Another survey examined shortly after the dual circulation period the perceptions and experiences of the general public regarding the changeover in the two countries (FL EB 222 and 223). The key results of these surveys are reflected in the Commission Communication.

Created on 18 April 2008