The winning design of the new euro coin to mark ten years of euro cash!
30.06.2011 - Euro-area citizens and residents have selected by public web-voting the winning design of a new euro coin that will be issued by all euro-area countries next January to commemorate 10 years of euro banknotes and coins.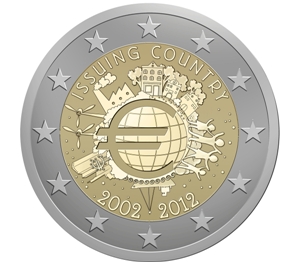 Normally each euro-area Member State issues euro coins with a national design on one side. But at the beginning of 2012 all euro-area countries will issue a single commemorative 2-euro circulation coin with a common design on the national side to celebrate 10 years of euro banknotes and coins. It is estimated that some 90 million of these coins will be put into circulation.
Close to 35,000 people voted in an online competition to select the winning design from a choice of five, which had been pre-selected by a professional jury following a design competition among citizens from the whole euro area.
The winning design (see left) symbolises the way in which the euro has become a true global player in the last ten years and its importance in ordinary people's lives (represented by the people in the design), trade (the ship), industry (the factory) and energy (wind power stations).
The design was created by Mr Helmut Andexlinger who is a professional designer at the Austrian Mint.
The winning voter is Mr Raphael Cretinon from France.