Euro Conference Tallinn 2010
23.09.2010 - The conference focussed on the expansion of the euro area, its practical aspects and its future role in Europe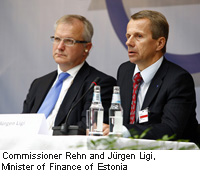 On 1 January 2011 - less than seven years after joining the European Union - Estonia will join the euro area and the euro will replace the kroon as legal tender. It will be the the seventeenth Member State to adopt the common currency .
To mark this occasion, and 100 days before €-day, the government of the Republic of Estonia and Eesti Pank, in collaboration with the European Commission and the European Central Bank, hosted the Euro Conference Estonia 2010 at the Estonia Concert Hall in Tallinn. The conference was wide-ranging, and covred both the political and practical aspects of euro area enlargement, addressing topics such as economic policy and policy co-ordination in Europe.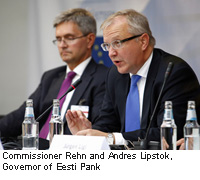 Andrus Ansip, Prime Minister of the Republic of Estonia, said in an upbeat opening address that "establishing the common currency is a prime example how effective can Europe be in acting together. Many Estonians are probably also going to feel some nostalgia for our own currency, but I am sure using euro is pretty soon going to be an integral and unquestionable part of being Estonian."
In all, nearly 500 high-level delegates attended and took part in the debates, which included a discussion panel on Enlargement of the Euro Area 2011: Trust in the Future, moderated by Peter Mooslechner, Director of Economic Analysis and Research Department of Oesterreichische Nationalbank. In his keynote speech, Olli Rehn, Commissioner for Economic and Monetary Affairs in the European Commission, congratulated Estonia for its efforts in adopting the euro.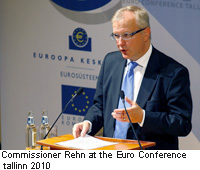 "Estonia has reached a major goal, and prepares now for life within the euro area. This requires efforts in terms of longer-term economic performance and a successful short-term changeover to the new currency. Sometimes the task will be challenging. But given the determination and the policy discipline shown by the Estonian people and authorities, I am sure the euro changeover will be a success story. In a similar spirit and – I trust – supported by Estonia and inspired by her example, I am also convinced that we will be able to jointly establish a reinforced framework for economic governance in the European Union." said Mr Rehn.
The event was followed by a press conference held by ECB President Jean-Claude Trichet, Commissioner Olli Rehn, the Estonian Minister of Finance Jürgen Ligi and Governor of Eesti Pank Andres Lipstok.