For hard copies of single issues or the yearly subscription, please contact our sales agents

Autumn economic forecasts 2007 - 2009

(2 MB)


(EUROPEAN ECONOMY. No. 7. 2007. Office for Official Publications of the EC. Luxembourg)


Commission forecasts moderating growth for 2007-2009

The European Commission forecasts economic growth in the European Union to continue albeit at a moderating speed. This growth will contribute to further job creation in the EU, while the widespread budgetary improvement this year is set to come to a halt in 2008-2009.


Growth is moderating but still healthy

In its most recent economic forecast the Commission expects growth to decelerate from 2.9% in 2007 to 2.4% in both 2008 and 2009 in the EU (from 2.6% to 2.2% in 2008 and 2.1% in 2009 in the euro area). The new forecast for 2008 is 0.3 pp. lower than six months ago for both areas.



Chart 1: GDP in the EU and the euro area showing limited downward revision in 2008, despite headwind from turbulence in financial markets; high oil prices etc.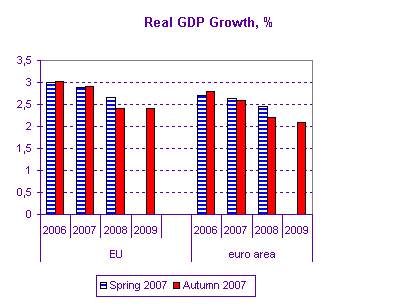 Impact of financial crisis limited so far

After a solid first half of 2007, the moderation going forward is partly explained by the impact of the turbulence in the financial markets. The EU economy entered 2007 in a relatively good position to weather the financial distress that began during the summer. It will take some time for markets to go back to normal. The Commission's baseline forecast assumes that the turbulence peters out gradually, although it has clearly reduced investors' appetite for risk and tightened financing conditions. Notwithstanding clear downside risks, the Commission sees the economy growing at around potential in the two forecast years.


Employment to improve further, not so public finances

The EU as a whole is predicted to create 8 million new jobs over the period 2007-2009, on top of 3.5 million jobs in 2006. This will help to reduce EU unemployment to 6½% in 2009.

The economic recovery will continue to improve public finances this year. The general government deficit is forecast to fall to slightly above 1% of GDP in the EU (0.8% the euro area) - a level not seen in many years. The structural deficit also improves this year, albeit to a lesser extent with fiscal consolidation coming to a halt further out. Indeed, a slight worsening is expected in 2008.General government debt is on a downward path, and is expected to reach 63.4% of GDP in the euro area by 2009 and to fall below 60% in the EU already in 2007. Inflation is set to accelerate in the coming quarters as a result of higher commodity prices, but should fall back to around 2% by mid 2008.



Chart 2: the fan chart showing balance of risks clearly tilted to the downside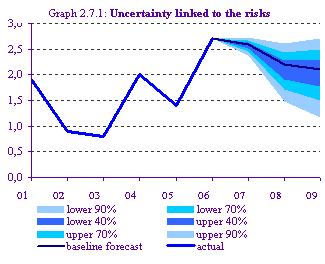 See also: Interim forecasts

With a view to updating the macro-economic forecasts, the European Commission produces interim forecasts in between the spring and autumn forecasts.