What are the needs?
ECHO Factsheet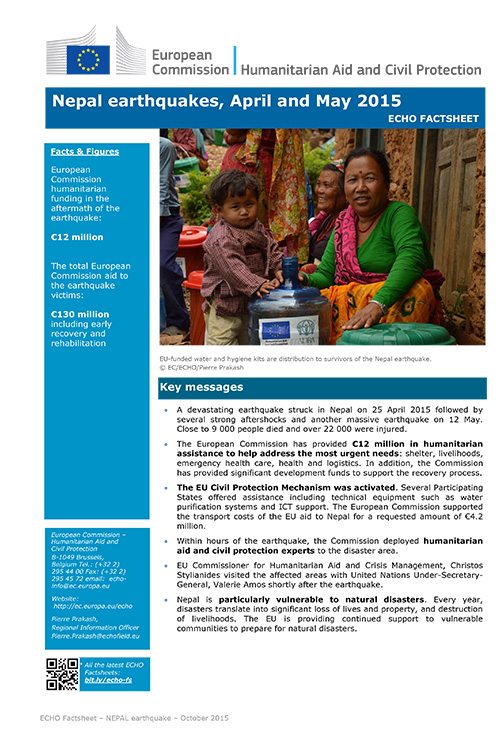 On 25 April 2015, a devastating earthquake killed thousands of people and destroyed hundreds of buildings and houses in the central and western regions. On 12 May, a second earthquake shook Nepal, killing dozens more people and damaging more buildings.
Nepal faces numerous natural disasters every year. Around 1 000 people are killed yearly by landslides and floods during the monsoon season. The threat of earthquakes, glacial lake outbursts, avalanches as well as cold and heat waves always looms over the country.
Nepal also hosts refugees from Bhutan. An estimated 30 000 refugees live in camps in the country. The refugees are not allowed to work and are almost entirely dependent on international humanitarian assistance. Over 107 000 Bhutanese arrived in Nepal in the 1990's, many of whom have since been resettled in third countries.
The political uncertainty following the 10-year Maoist insurgency that ended in 2006 continues. A new Constituent Assembly elected in the November 2013 elections has resumed the task of finalising the country's constitution.
How are we helping?

In its initial response to the massive earthquake of April 2015, the European Commission released €6 million to help address the most urgent needs, including clean water, medicine, emergency shelter and telecommunication. The total European Commission aid following the earthquake amounts to €22.6 million including early recovery and rehabilitation.
This funding comes in addition to the deployment of European Commission's humanitarian aid and civil protection experts to the crisis area, and to the search and rescue and first-aid teams, as well as relief items, sent from EU Member States through the EU Civil Protection Mechanism.
The European Commission's Emergency Response Coordination Centre has monitored developments on a 24/7 basis and coordinated support from Europe.
The European Commission's Humanitarian Aid and Civil Protection department (ECHO) has been working in Nepal for many years, implementing community-based disaster preparedness projects, helping the survivors of the conflict in remote areas and assisting the refugees from Bhutan.
A significant part of the European Commission's humanitarian assistance to Nepal goes towards helping communities resist, withstand and cope against natural disasters through the creation of community-based rescue mechanisms, disaster-resilient infrastructure, early warning systems and flood management. The funding also helps enhance the capacity of the medical community to cope with mass casualty situations that could be provoked by an earthquake through retro-fitting of hospitals in Kathmandu and stockpiling of fuels and surgical kits.
Since 2001, the Commission has provided almost €18 million for disaster-preparedness efforts, including €3.3 million allocated for 2015.
During Nepal's internal conflict, and up until 2011, the Commission's humanitarian actions totalling €35 million supported thousands of conflict-affected people, especially in rural areas, by providing healthcare as well as water and sanitation facilities. The European Commission's humanitarian aid to Nepal has totalled around €80 million since 2001.
Factographs