What is International Humanitarian Law?
ECHO Factsheet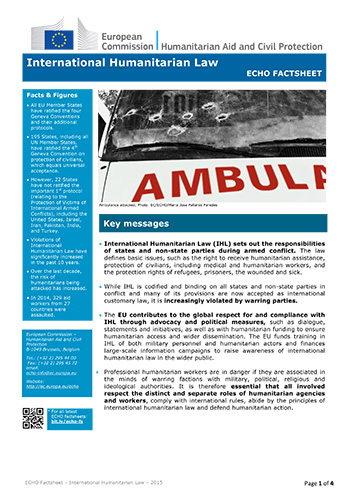 International humanitarian law (IHL) is a set of rules that seeks to limit the effects of armed conflict on civilians. It spells out the responsibilities of states and non-state parties during armed conflict. This law defines basic issues, such as the right to receive humanitarian assistance, protection of civilians, including medical and humanitarian workers, and the protection rights of refugees, prisoners, the wounded and sick.
IHL is applicable to humanitarian assistance and protection of civilians and is based on the 1949 Fourth Geneva Convention relative to the Protection of Civilians in Time of War and the 1977 and 2005 Additional Protocols. In addition to treaty law, some obligations have also developed into customary international law, i.e. are based on state practice accepted as law. These include rules on the rapid and unimpeded passage of humanitarian relief and the freedom of movement of humanitarian relief personnel.
The principles that guide humanitarian action – humanity, impartiality, neutrality and independence – also have their basis in IHL.
All EU Member States have ratified the four Geneva Conventions and their additional protocols. 195 States, including all UN Member States, have ratified the 4th Geneva Convention on protection of civilians, which equals universal acceptance. However, 22 States have not ratified the important 1st protocol relating to the Protection of Victims of International Armed Conflicts.
What are we doing?
The European Commission's Humanitarian Aid and Civil Protection department (ECHO) promotes the global respect of IHL and humanitarian principles. ECHO supports five types of concrete activities for the dissemination and implementation of IHL:
funds IHL advocacy activities of our partners or does IHL advocacy itself in certain conflicts.
funds training programmes targeting a wide range of stakeholders including  military/security forces and armed non-state actors in key conflict-affected countries.
funds activities aimed at increasing the capacities of humanitarian workers in advocating for IHL.
tries to raise awareness among partners worldwide about some of the unintended consequences of new counter-terrorism legislation and policies, which may limit humanitarian action, including training in international humanitarian law.
funds and implements large-scale information campaigns to raise awareness of international humanitarian law in the wider public.