The initial EU budget for humanitarian and civil protection actions amounts to approximately €1 billion per year. Thanks to the EU Multi-Annual Financial Framework, the Commission's Humanitarian Aid and Civil Protection department (ECHO) has foresight of its 2014-2020 budgets, amounting to €6.6 billion (excluding the EU Aid Volunteers initiative). The precise annual figures are decided at the end of each year by the Budget Authority of European Parliament and the Council, following the annual budget procedure. In addition to the initial budget, an EU Emergency Aid Reserve can be called upon to respond to unforeseen events and major crises, financing notably humanitarian, civilian crisis management and protection operations in non-EU countries.
ECHO provides funding to over 200 partner organisations which implement humanitarian actions on the ground. These include non-governmental organisations (NGOs), international organisations and United Nations agencies (UN).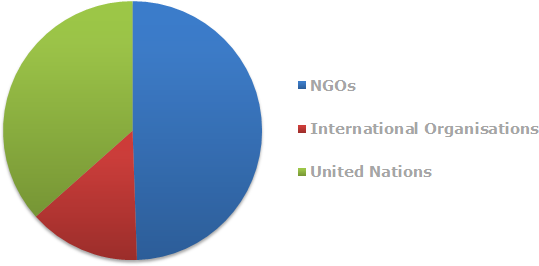 ECHO's 2014 budget. Of the total, 46% was used to fund NGOs, 34% UN agencies, 13% international organisations, 4% was spent on support and technical assistance, and 3% on civil protection activities.  
To benefit from EU humanitarian funding, an interested organisation needs become a partner. A framework partnership agreement is signed between ECHO and the humanitarian partner if the applicant complies with the selection criteria established by Article 7 of the Humanitarian Aid Regulation. Once they sign the partnership agreement, partners can submit project proposals in response to the published Humanitarian Implementing Plans (HIPs) approved by ECHO on a yearly basis.
Previous and existing agreements
Further information is available about ECHO's past humanitarian operation agreements and service contracts; as well as its consultations with partners on funding decisions.