What is it?
Eurobarometer surveys monitor the evolution of public opinion in EU Member States. The aim of the surveys is to assess EU citizens' awareness of and support for the European Commission's activities. Tracing public opinion trends helps in the preparation of policy texts, decision-making and the evaluation of the EU's work. Surveys are conducted among EU citizens in all 28 Member States.
What do European citizens think?
The results of the 2015 surveys concerning the EU's humanitarian aid and civil protection activities show an overwhelming and growing support of Europeans for EU actions in these areas, and confirm citizens' continued solidarity with victims of natural and man-made disasters in Europe and around the world.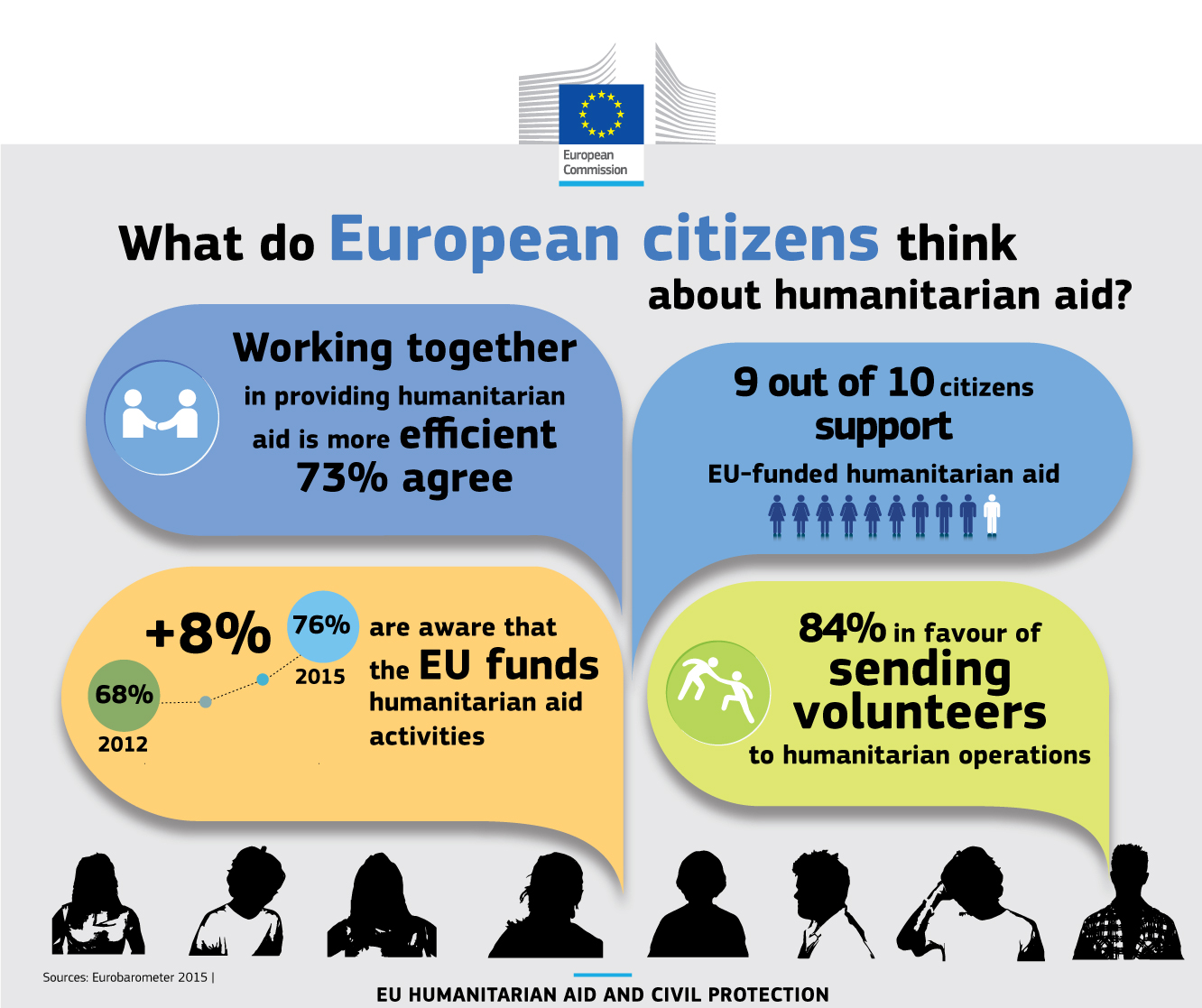 Public support for the EU's humanitarian aid has gone up in spite of the economic crisis. Nine out of 10 citizens believe it is important for the EU to continue funding humanitarian aid – a rise of two percentage points since the previous survey in 2012. EU citizens show increasing awareness about the EU's humanitarian aid activities. According to the poll, 76% of them have general knowledge of the EU's work in this area (compared to 68% in 2012). There is also strong awareness about the EU's specific actions in response to big crises, such as the Ebola epidemic in West Africa. In addition, Europeans show strong support (84%) for sending volunteers to humanitarian operations around the world.
The survey confirmed an increasing belief of Europeans that EU joint response to disasters is more efficient than Member States' individual actions. 73% of the respondents believe so in the case of humanitarian aid and 80% for civil protection.
Nearly nine in ten (88%) EU citizens support the EU-wide civil protection policy because of the cross-border nature of many disasters. Nearly the same number (87%) are supportive of the EU helping any country in the world affected by a disaster. Europeans prevailingly agree (90%) that they would expect help from other EU countries if a disaster were to happen in their country.
Over three quarters (77%) also agree that natural or man-made disasters in their region could have a negative impact on the economy. Over four in ten EU citizens are not confident that enough is being done to prepare for disasters.
The level of awareness and information on disaster risks is low: only 55% of respondents say that they are aware of such risks in their region.
Report and EU28 results
Factsheets national results: