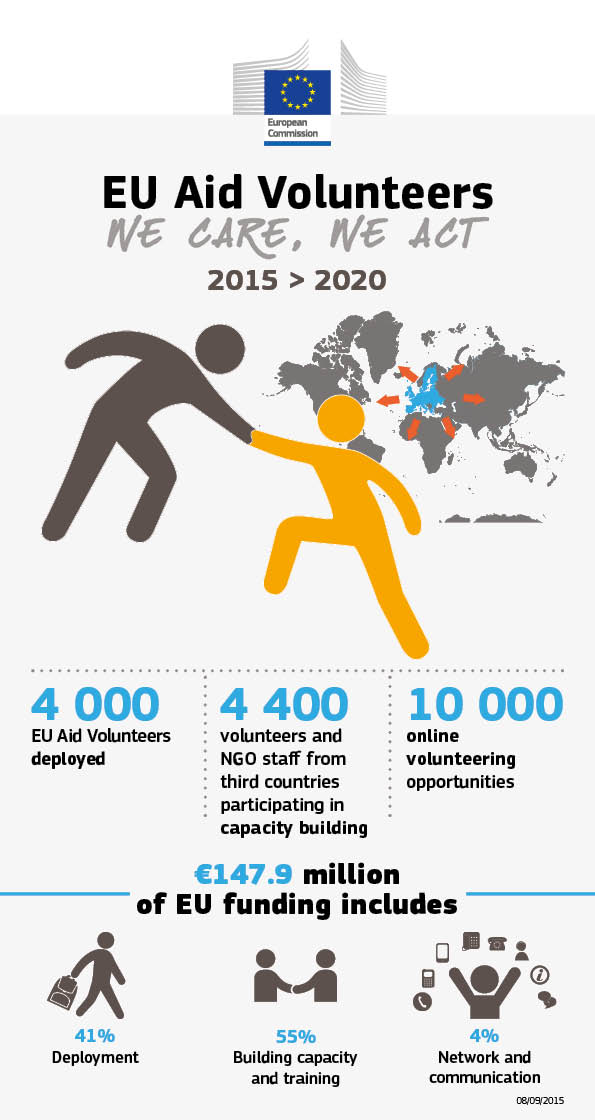 The EU Aid Volunteers initiative brings together volunteers and organisations from different countries, providing practical support and establishing European standards on volunteering.
More than 18 000 citizens are expected to take part in the programme, contributing to humanitarian work and expressing their solidarity by helping people caught up in crises.
The EU Aid Volunteers initiative will:
Offer Europeans opportunities to show solidarity with those who most need it,
Provide professional support by well-prepared volunteers to people in need,
Benefit local organisations with capacity-building measures.
Trained volunteers will be deployed as EU Aid Volunteers in humanitarian projects worldwide starting from 2015. Where needed, their training will include office-based experience in a European humanitarian organisation.
A network of volunteers will be established to allow them to interact with and support each other before, during and after deployment.
The initiative will also offer online volunteering opportunities for people both inside and outside Europe, to give support to people already in the field. It will also provide capacity building for local staff and volunteers of organisations in countries hit by disasters where the EU Aid Volunteers will work.
A number of pilot projects were launched by the European Commission's partners between 2011 and 2014 in order to gain real experience during the preparation of the EU Aid Volunteers initiative, which will run from 2014 to 2020.
You can find more detailed information on the EU Aid Volunteers initiative in the Questions & Answers document.
Timeline