Austria
FusionMaps.
Address
Europe for Citizens Point Austria
Federal Ministry for Education, Arts and Culture
Unit IA/4 EU Culture Policy – EU Programme Europe for citizens
Concordiaplatz 2
A-1014 Vienna
Tel.: +43 / 1 53120 / 7757
Fax: +43 / 1 53120 / 81 7757
Web: www.europagestalten.at
Contact: Dr. Sigrid Olbrich
E-Mail: europagestalten@bmukk.gv.at
Workshop - 6th June 2013
Vienna ECP Austria will be organizing in cooperation with CCP Austria the Workshop "EU-project management" #4: "Meeting the Audience"
More information on the website.
Brochure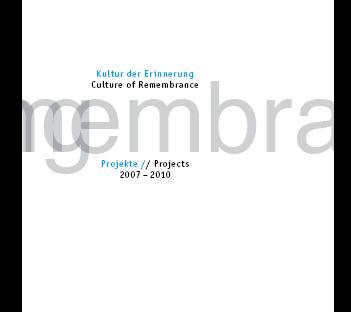 "Kultur der Erinnerung / Culture of Remembrance"

The publication "Kultur der Erinnerung / Culture of Remembrance"" presents exemplary Austrian projects that have been funded within Action 4 "Active European Remenbrance" of the EU-programme "Europe for Citizens" between 2007 and 2010. In the centre of the book you can find many projects in short project descriptions, with a personal comment by the project leaders and photographs. An interview with the contemporary historian Heidemarie Uhl on remembrance culture in Austria and Europa, and an essay by Stefan Musil on art-based memorial strategies complete complete this publication.